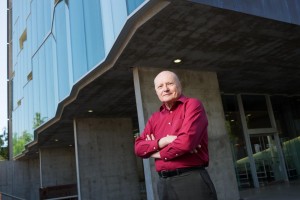 The University of Arizona's College of Optical Sciences has successfully completed one of the most ambitious scholarship fundraising campaigns in the University's history.
More than 270 donors collectively raised $2.5 million in response to a $10 million challenge, establishing 27 new endowed scholarships for optics graduate students, raising the total to 30.
The campaign brings the total new endowed optics scholarship funds to $12.5 million. The news was announced Tuesday in San Francisco at a reception for the SPIE Photonics West, a leading optics industry convention, as the capstone to the college's 50th anniversary.
James C. Wyant, professor emeritus and founding dean of the college, committed $10 million in scholarship funds in 2013. His vision was to help students through their first — and most challenging — year of graduate study. Then he uniquely structured his gift as a 4-to-1 offer to encourage others to participate. However, no one anticipated that the outpouring of support would happen so quickly.
Each of the new scholarship funds will award a stipend of $20,000 to first-year graduate students, and the University will waive tuition for all 30 of the scholarship recipients.
Since its inception, the college has grown as a center of innovation and interdisciplinary research and today is the largest and most diverse academic optics education and research program in the nation. A prolific producer of intellectual property, it also has brought in a substantial number of the UA's recent patents and licenses.
Donors to the scholarship campaign, dubbed Friends of Tucson Optics, or FoTO, include optics alumni and faculty, as well as industry business leaders, an optics industry association and even faculty from other prominent universities. A graduate student, who wishes to remain anonymous, established a scholarship in a war hero's name, hoping that it would inspire fellow students to courageously pursue excellence in their careers.
Others include James Mayo III, who helped establish the college in 1964 and also became its first graduate. He funded a scholarship in honor of his family. UA faculty member Nicolaas Bloembergen, a 1981 Nobel Prize recipient in physics, also contributed.
John B. Hayes, who received his doctorate from the college in 1984, and his wife, Jane C. Quale, bookended the campaign by funding the first two scholarships. They recently created the 30th.
The scholarships contribute directly to the Arizona NOW campaign, which was launched publicly in April 2014 and concludes in June 2018. To date, the campaign is ahead of pace, with more than 70 percent of the goal met. The comprehensive fundraising campaign also is distinguished by its unprecedented scope and its ties to Never Settle, the UA's strategic plan.