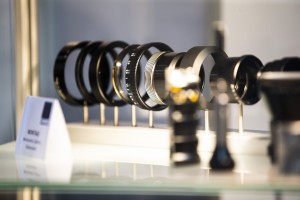 On 16 + 17 March 2022, the W3+ Fair 2022 (w3-fair.com) opens its doors to visitors at the Rittal Arena Wetzlar (renamed Buderus Arena Wetzlar from 1 January 2022). After last year's interruption due to the corona pandemic, attendees can expect a trade fair filled to the brim with current trends within the sectors and relevant cross-cutting technologies.
This is the eighth hosting of the event in the optics hub, bringing together the cutting-edge technologies of optics, photonics, electronics, and precision engineering. The networking of these sectors boosts the sharing of knowledge and contacts between experts, so paving the way for new technology-driven innovations. Large-sized and smaller exhibitors such as Bühler Alzenau, Bruker, Carl Zeiss, Meopta, OptoTech, QED Technologies, Schunk, Trioptics, WZW Optic AG and others have confirmed their participation. There are only a few stands still available in the exhibition hall.
Other invited visitors include experts from application sectors such as medtech, life science, automotive, aerospace, tools and machinery as well as consumer electronics. The event organiser is taking no risks: The Covid safety plan is regularly updated in line with the latest local authority guidelines and includes the implementation of Germany's 2G rule (visitors must be vaccinated against or have recovered from Covid) as well as a corona-compliant floorplan in the exhibition centre. This will enable every attendee to plan their visit to this "quality-beats-quantity" event, with its close links to the economically strong high-tech region of Wetzlar/ Mittelhessen.
Top-class conference schedule for first-hand knowledge: Medical Technology, Tomorrow's Technologies, Industry 4.0
Away from the cross-sector exhibition programme, visitors can also get information on the latest trending topics. The N-Tec Talks fringe conference will focus on subject areas such as medical technology & life science, technology & quality assurance, production of the future and digitalisation & management. Details of the N-Tec Talks programme for 2022 featuring over 40 guest speakers will be announced very soon. Conference sponsors include the W3+ Fair partners Wetzlar Network, Spectaris and OptecNet Deutschland. And entry is free of charge to trade fair visitors.
"Industry 4.0 – Fit for the Future through Digitalization" is the title of the congress hosted by the Chamber of Commerce and Industry, IHK Lahn-Dill, which will be held in German alongside the trade fair on the first day of the event. Well-versed speakers such as Prof. Dr. Christian Überall, Director of the Smart Factory Mittelhessen at the University of Applied Sciences Mittelhessen, Dr. Christopher Köhnen, Senior Industry 4.0 Leader at Stanley Engineered Fastening, and Frank Benner from B+T Unternehmensgruppe will be conveying their specialist knowledge and providing advice.
Another participant returning to the trade fair is EPIC TechWatch. The world's largest photonics industry association, EPIC provides enterprises with a platform on which to formulate their needs regarding advanced technology. EPIC is also the organiser of the C-Level Breakfast event.
Special areas for cross-cutting technologies
Alongside the focal areas of the trade fair - optics, photonics, electronics and mechanics - visitors can also find out about the latest developments in a range of cross-cutting technologies. The Innovation Area hosted by the VDI will present all aspects of Industry 4.0: Visitors will be able to see innovations close up, particularly in the aeras of robotics, automation and digitalization. There will also be a special area entitled "3D Printing / Additive Manufacturing", "Microtechnology for optical devices" will be hosted by the IVAM association, and then there is the Thuringia shared stand.
"With this multitude of dazzling topics and points of contact, in this eight year of the W3+ Fair we are again seeking to make it what it has always been: A place for experiencing inspirational encounters and discovering a pool of innovative ideas. We are extremely delighted to once again be able to host the event live on-site, and in a safe setting. And we are extending a warm invite to everyone with an interest in the high-tech sector," affirms Jörg Brück, Business Director of the organiser, Fleet Events.