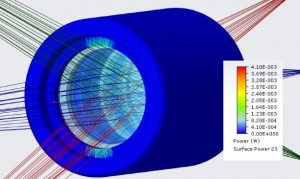 Creo and SOLIDWORKS users designing optomechanical systems can get an easier and faster way to go from design to manufacture with LensMechanix 19.1, which is available now from Zemax. LensMechanix is built to meet the needs of mechanical engineers that design housing for optical products—so they can access the complete design data of optical systems designed in OpticStudio.
With the new release, optomechanical engineers can now generate ISO drawings of modified optical components, as well as load a wider range of OpticStudio objects into LensMechanix including the:
Binary 2A object that enables engineers to model an ideal diffractive element
Array object so engineers can get multiple instances of the same shape without having to model them individually
Boolean CAD object which can be used to form very general shapes by adding, subtracting, and intersecting other CAD objects
Using LensMechanix benefits optomechanical engineers in three ways:
Maintain design fidelity
Mechanical engineers access all the optical data defined by the optical engineer with just one file. There is no need to share STEP files, spreadsheets, or drawings.
Shorten time to market
LensMechanix saves time by reducing the iterations between optical and mechanical design that happen before getting to a final design. With less back and forth, teams can get designs to market faster.
Reduce costs
Mechanical engineers can easily see the impact of mechanical components on optical performance. This enables them to find any errors in the design before they build a physical prototype.