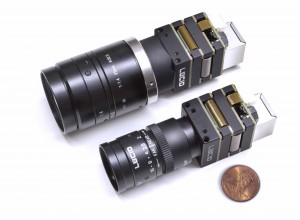 Lucid Vision Labs, Inc. is a new company that designs and manufactures innovative machine vision cameras and components that use the latest technologies. The company's compact GigE Vision cameras are suited for a wide range of industries and applications such as factory automation, medical, life sciences and logistics.
Lucid Vision Labs, Inc. was founded in January 2017 and is located in the greater Vancouver area, Canada. The founders launched the company with a shared vision - to build innovative cameras and components that help customers solve their unique design challenges today in order to succeed in their vision tomorrow. For digital imaging technology to keep up with current and emerging applications, it must be fluid, it must be inspired.
Rod Barman, Founder and President Rod Barman is the Founder and President of Lucid Vision Labs, Inc. Previously, Rod was the Founder, President and VP of Engineering at Point Grey Research, Inc. For 19 years he directed and managed Point Grey's yearover-year growth, without any external investment, into a worldwide leader of high-performance industrial cameras. Rod has a Master of Applied Science, Electrical Engineering from the University of British Columbia.
Torsten Wiesinger, General Manager, EMEA Torsten Wiesinger is the General Manager of the EMEA region for Lucid Vision Labs, Inc., responsible for developing and growing Lucid's presence in the EMEA market. Before joining Lucid, Torsten has gained over 15 years of experience in the machine vision industry, notably as the CEO at IDS Imaging Development Systems GmbH, and more recently as Sales Director at MVTec Software GmbH. Torsten has a Diploma in Business Informatics.