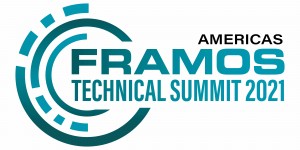 For three days, from 11:30 a.m. to 6:00 PM (EST) on April 20-22, FRAMOS is hosting a virtual Technology Summit featuring top-class experts from Sony, Prophesee, NVIDIA, Intel RealSense, BMW, and FRAMOS. This exclusive event is a conference and exhibition in one and it connects industry professionals and businesses who are looking to bring innovative solutions to the market using the latest technologies and setting new trends in Imaging. Participants will have direct access to live presentations, demonstrations, and breakout training sessions, combined with a unique opportunity to discuss specific projects with the experts in one-to-one sessions to gain practical solution ideas for specific tasks.
This virtual event is open to anyone who is interested in the Imaging Industry. Attendees will gain exclusive Zoom conference access which includes insightful speeches, Q&A sessions, networking opportunities with industry experts, and one-in-one discussions on existing or future projects.
Inform and discuss
In this virtual conference, experts will present their latest technologies through exclusive 20-minute presentations followed by live technology demonstrations and Q&A sessions. After the presentations, designated speakers' lounges will be available for further Q&A with the experts and hosted by our conference moderators.
Learn from industry experts
While in the summit's virtual exhibition area, attendees can obtain additional technical information on the latest imaging technologies, watch demonstrations of products in action and can download datasheets, and other documents.
In-depth conversations through face-to-face sessions
While attending this virtual conference, attendees will be given the opportunity to discuss potential projects as well as their highly technical questions and/or project related topics in one-on-one videocalls with experts from Sony, Prophesee, NVIDIA, Intel® RealSense™, BMW and FRAMOS. Questions and project topics will need be submitted in advance so that preliminary research can done prior the meetings to maximize time spent together and ensuring participants leave with the most complete answers and solutions. During these meetings, all conversations will be bound by signed NDAs guaranteeing that all information shared will be kept in the strictest confidence by all parties. Timeslots are limited so book early.
Event details
When:
Tuesday, April 20, 2021: Day 1. Future of Image Sensor Technologies. Sony, Prophesee
Wednesday, April 21, 2021: Day 2. Embedded Vision Excellence. NVIDIA and FRAMOS
Thursday, April 22, 2021: Day 3. Future of Depth Sensing. Intel® RealSense, BMW, and FRAMOS
Where: Online
Language: English
For more information, registration, and ticketing information, click here.