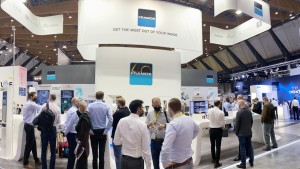 At VISION FRAMOS will focus on its specific capabilities and product offerings that help enable the development of imaging solutions for machine vision and embedded systems. The theme of their presentation is "The Journey: From Sensor to Solution". The FRAMOS booth will feature multiple video screens, and two large, touch-screen panels that allow booth visitors to explore and interact with a range of FRAMOS's product offerings and services.
This year, FRAMOS will also be hosting a series of workshops featuring industry experts on a range of topics, including Time-of-Flight (ToF) sensor technology, event-based vision systems, and the creation of Image Quality Profiles (ISP Tuning) to get the best possible image from your combination of optics, image sensor, and application.
FRAMOS will be hosting the following workshops:
· What's new? – Sony Technology Overview and Roadmaps: David Kallenbach
· Optical modules tailored to your demands: Dr. Frederik Schönebeck
· Event-based vision systems: Technology Overview and FRAMOS solution: Giuseppe Contini
· Building an iToF camera: Christopher Baldwin
· ISP Tuning – an example with NVIDIA: Christopher Baldwin
· Depth sensing made easy with FRAMOS D400e industrial stereo cameras: Giuseppe Contini
Multiple sessions of the workshops will be delivered over the course of three days, in meeting room 10.4 adjacent to the exhibit hall. Those interested in attending a workshop can register online here. The number of available seats is limited.
The FRAMOS team will present their wide range of products and solutions in Hall 10, Booth E54.