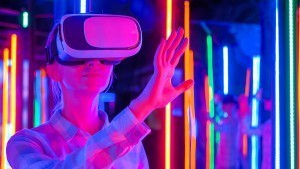 The report "Virtual Reality Market with COVID-19 Impact Analysis by Offering (Hardware and Software), Technology, Device Type (Head-Mounted Display, Gesture-Tracking Device), Application (Consumer, Commercial, Enterprise, Healthcare) and Geography - Global Forecast to 2025", The virtual reality market is projected to reach USD 20.9 billion by 2025, at a CAGR of 27.9% during the forecast period.
The most significant factors driving the growth of the virtual reality market are penetration of HMDs in gaming and entertainment sector post COVID-19, high investments in VR market, advancement of technology and growing digitization, availability of affordable VR devices, and growing adoption of HMDs in different industries.
Opportunity: Penetration of HMDs in healthcare and architectural applications
VR is gradually being used for practical purposes. In the medical vertical, HMDs are used mainly in medical training applications. This technology is rapidly gaining importance among medical professionals and is expected to play an important role in assisting doctors and surgeons near future. HMDs are widely accepted in the medical vertical.
With advanced interfaces, such as HMDs, medical professionals can easily perform surgeries and provide post-operative care through VR simulation. HMD can thus make the medical sector more proactive in treating patients, and an increase in accuracy is expected in the next 5–7 years. VR technologies have a major application in the architecture and design segment. Building Information Modeling (BIM) is used in the architecture and design sector to get a 3D view of building design and surrounding spaces.
This gives a clear view and reduces errors and costs during the construction phase using VR visualization models. The VR platform provides a riveting view of the building design and an interactive, navigable, and immersive experience so that the client and architect can understand the structure and make suitable modifications before the construction.
Challenge: Adverse impact of lockdowns due to COVID-19 on commercial trade
The effective way to fight the COVID-19 is by locking down the sensitive and outbreak-prone areas and practicing social distancing. The imposition of lockdowns and social distancing has severely affected the manufacturing sector as a large chunk of consumer spending is discretionary.
Hence, it is sensitive to being postponed or lost completely due to quarantines and social distancing. For some companies, the manufacturing operations are completely halted, which has disrupted their supply chains. For instance, key automobile companies such as Volkswagen, Ford, and General Motors have shut down all their production units worldwide. Ryanair, the largest and the low-cost airline in Europe, suspended all its flights until June, which has adversely affected the region's economy.
For instance, Similarly, the Oculus division is developing a novel version of its Quest standalone VR-HMD, but the virtual reality headset is witnessing potential delays owing to the impact of global pandemic COVID-19 on product development and the global supply chain. The company had planned to launch the new Quest standalone VR-HMD at the end of 2020, at its annual Oculus Connect conference, but the outbreak of COVID-19 is anticipated to delay the shipment of virtual reality headsets until 2021. All these factors are expected to significantly impact the growth of the VR market for the next 4–6 months.
Sony (Japan) has set the pricing of VR PlayStation headset to USD 399 which is hundreds of dollars less than those of its counterparts. The company would bank on the economies of scale to grow in the VR market with the low pricing strategy to compete with the established headset makers in the VR market. Sony's VR technology owns some of the largest movie, music, and gaming companies in the world. The company is planning to reshape entertainment delivery within prolonged lockdowns and, eventually, post-COVID-19. It is also planning to promote VR concerts and other VR entertainment solutions to entertain people by avoiding crowds and attaining a safe environment.
Oculus (US) develops and manufactures virtual reality technology products such as Oculus Rift and Oculus Touch. These are mostly utilized in video games of various categories including adventure, action, fighting, horror, and education. The company has its facilities in 5 locations spread across 4 states in the US and 1 in Seoul, South Korea. Oculus has made huge investments in R&D and has been as an important player in the virtual reality market as it has been backed by Facebook (US).
HTC (Taiwan) has been among the companies with huge investments in the virtual reality market. The company in partnership with Valve (US) developed Vive, a head-mounted display which would be useful for applications such as healthcare, retail, education, and automotive. HTC Corporation also announced to dedicate the fund of about USD 100 million to start-ups that would join the Vive X accelerator program. The Vive X accelerator program would help build VR ecosystem by investing in the promising VR companies. The HTV Vive is a product of HTC (Taiwan) and Valve (US). Valve Corporation owns the platform, technology, and software of the Vive; with HTC being just the manufacturer, HTC Corporation has recently announced its plans to spin-off their VR division into a new wholly owned subsidiary, HTC Vive Tech. The company has not been doing well in its smartphone business, and the move to concentrate on VR business with less acquaintance of technology initially seemed dicey. However, the move worked well. The company has come up with other products such as VIVE Tracker, Deluxe Audio Strap, and VIVEPORT. The company concentrates on providing accessories required for VR devices to exhibit enhanced experience. HTC ventured with Capital Alliance (VRVCA), along with 27 other firms, to form a consortium focused on VR investments. The VRVCA has a total fund of USD 10 billion for startups in the VR market. HTC Corporation has a broader ecosystem with this initiative of forming a consortium for VR-dedicated investments. The company is looking forth to enter applications such as entertainment, retail, education, training, design, healthcare, and automotive with VR products and services.
Recent Developments in Virtual Reality Industry
In March 2022, HTC partnered with an in-car VR entertainment company, Holoride to expand its AR and VR hardware product portfolio, specifically –HTC Vive Flow glasses for car backseats of Audi sedans and SUVs to have their firsthand experience in car VR technologies.
In January 2022, Sony claimed to develop a PSVR headset for a better experience of virtual reality in PlayStation as the PSVR headset will connect directly to PlayStation 5 console.
October 2021, HTC announced the launch of another product in its AR and VR hardware product portfolio. It announced the launch of VR glasses which, unlike other VR glasses or headsets, are focused on physical and mental wellness rather than gaming. It is sleek, lightweight, and gives lighter and passive entertainment to the users as it is enabled with 3D virtual reality and 3D spatial audio as well.
September 2021, Oculus partnered with a video conferencing company – Zoom to work toward enabling virtual reality meetings in the near future and will provide a virtual workroom environment and whiteboards for more comfortable and interactive meeting sessions.
November 2020, Samsung partnered with IIT-Jodhpur to set up AR-VR innovation labs with topics of interests as telepresence, robotics, and brain-machine interfaces.