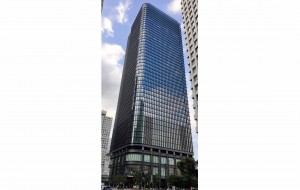 Hamamatsu will change the location of its Tokyo Sales Office to the vicinity of Tokyo Station offering stakeholders convenient traffic and commuting benefits. Hamamatsu Photonics will furnish it with a fully-equipped showroom to boost its information communication ability to both domestic and overseas stakeholders.
The new sales office will start operations on December 6th.
This year will mark the 50th anniversary since the company first established its Tokyo Sales Office in 1971. During that time theye moved to the current office (Toranomon, Minato-ku, Tokyo) in 1980 and by gradually expanding available space and business features, the company was able to carve out a large share of the market.
The sales office is moving to the Tokiwabashi Tower, approximately a 1 minute walk from the Nihonbashi Exit of Tokyo Station, offering great commuting features and traffic network access. The showroom includes a whole host of features including a theater showing videos giving an overview of business operations, management principles and other information, as well as a touch panel large-size display for describing main products and their application fields. This new business location will not only give better access to overseas and domestic customers but will also benefit employees of the corporate group, as it will convey information to help others understand the company.
From here onward, along with enhancing sales activity, the new Tokyo Sales Office will serve as a global entryway to our corporate group that deepens communication with the diverse groups of stakeholders who visit.
Overview of new Tokyo Sales Office
Name: Hamamatsu Photonics K. K., Tokyo Sales Office
Address: 11F, Tokiwabashi Tower, 2-6-4, Otemachi, Chiyoda-ku, Tokyo, Japan, 100-0004
Business operations start: December 6, 2021
Employees: 30 (Sales Office Manager: Yasunori Oguri)
Sales product items: All products manufactured by Hamamatsu Photonics, including photomultiplier tubes, imaging devices, light sources, opto-semiconductors, image processing and measurement systems