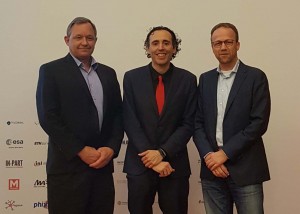 Two business leaders who share a passion for software are united on one team. Jose Pozo, CTO of EPIC, had the opportunity to interview Tom Walker, the R&D Group Director of Synopsys and Twan Korthorst, the Director of PhoeniX Software,
Synopsys R&D Group Director Tom Walker and PhoeniX Software CEO Twan Korthorst come from different continents:North America and Europe. But that´s where their differences end. Walker and Korthorst both earned degrees in Electrical Engineering and share a commitment to developing high-performance optical and photonic design software and, with Synopsys´ acquisition of PhoeniX Software in February 2018, the two leaders now work together on the next generation of photonic design solutions.
Tom Walker has worked in technical software development for more than 30 years, including eight years at Rockwell International, where he designed interactive graphics and CAD systems. He later joined Optical Research Associates (ORA) in Pasadena, California (US), to co-engineer the company´s LightTools software for illumination optics design. In his 22 years with the company, he also served as ORA´s chief technology officer and vice president of software development, guiding the industry-leading CODE V and LightTools optical design products.
After ORA was acquired by Synopsys in 2010, Walker continued to lead CODE V and LightTools research and development and has played a leadership role in Synopsys´ acquisition of RSoft Design Group´s photonic design solutions and Brandenburg GmbH´s LucidShape CAD software. Walker´s enthusiasm for software engineering has had an impact beyond work: two of his children have also pursued successful careers in the field.
Twan Korthorst has been active in the field of micro- and nanotechnology since the mid 1990s, starting as a product engineer at Twente Microproducts (TMP). After TMP was acquired by Kymata, a data communications solutions provider based on integrated optics, he became director of operations at Kymata Netherlands and its successor Alcatel Optronics Netherlands. He was also manager of operations at DEMCON, an engineering company active in the field of advanced mechatronics.
In 2007, Korthorst became the general manager at PhoeniX Software, headquartered in Enschede, the Netherlands. He saw growth opportunities for integrated photonics and helped PhoeniX Software focus on building relationships with foundries, supporting the MPW ecosystem, developing PDKs, and partnering with other software vendors. With these initiatives, PhoeniX Software has continued to grow and expand its presence in Europe and the U.S.
With the acquisition of PhoeniX Software by Synopsys, Walker and Korthorst look forward to working together to raise photonic design to higher levels of abstraction and add more automation for designers of custom photonic integrated circuit designs.
What to expect after Synopsys´ acquisition of PhoeniX Software
Walker explains that PhoeniX OptoDesigner photonic physical layout tools complement Synopsys´ current portfolio of optical and photonic design automation solutions. "Synopsys is committed to growing the company´s photonics portfolio to help designers meet their evolving photonic integrated circuit design requirements and access high-quality photonics solutions from a single provider with common licensing terms and support infrastructure," Walker said. As part of Synopsys´ photonic solutions, the PhoeniX OptoDesigner team will continue to value partnerships with smaller foundries, R&D facilities, and larger semiconductor organizations. "We will also continue to support customers with their first photonic IC designs and MPW runs with a license at an affordable rate to help them and the partners of PhoeniX attract more new people entering the field," said Korthorst.
A vision for integrated photonics
Korthorst believes that integrated photonics will continue to grow and especially silicon photonics, which he believes will supply the bulk of photonic integrated circuits. "Over time, the entire optical IO will get closer to traditional semiconductors," said Korthorst. "In the short term, chips will be 80 percent photonic components, but in the longer term, PIC-based systems will be more of a marriage of electronics and photonics." Photonics represents a growing opportunity in integrated circuit design and, as data rate needs increase, both Walker and Korthorst envision that engineers will increasingly turn to photonic switching and transmission to enable high-speed electronic designs. They see the Synopsys PIC Design Suite, which includes RSoft OptSim Circuit and PhoeniX OptoDesigner, as providing a complete design flow to help enable increased use of PICs.
Advice to young people aspiring for success in the photonics industry
Both Walker and Korthorst believe the optics and photonics industry is a promising source of career options and success. Korthorst says that career success can be achieved with strategic planning and risk assessment, combined with a willingness to take career opportunities as they present themselves. "You should grab opportunities as they become available," said Korthorst. "Otherwise, if you see only the risks, you will never be able to change yourself or your company for the better." Walker´s advice to students who love software and someday aspire to become R&D heads or CEOs: "Never say no to a career opportunity. Be able to recognize the important potential it provides for learning and growing your skills."
About Synopsys
Synopsys is driving the photonic integrated circuit (PIC) revolution with design automation solutions for a wide range of application requirements, from data communications to sensors and biomedical devices. Synopsys´ PIC Design Suite-- including the RSoft OptSim Circuit and PhoeniX OptoDesigner tools -- offers a seamless PIC design flow from concept to manufacturable design, as well as access to a single, world-class support channel.
About the interviewer
Dr. Jose Pozo is Director of Technology and Innovation at EPIC (European Photonics Industry Consortium). As EPIC´s CTO, he represents 380 companies active in the field of Photonics. His job consists of actively engaging with these companies and providing tools to strengthen their position in the supply chain, including 20 technology workshops per year, providing market intelligence, and finding B2B leads. He has a vision that the future of optoelectronic manufacturing can take place in Europe to a large extent, and as part of that vision, he is actively involved in the EU-funded pilot lines. He has a 20-year background in photonics technology, market knowledge, and a large network within the industrial and academic photonics landscape.