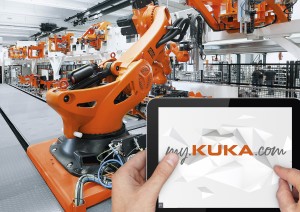 KUKA customers now can find more features and convenience on the relaunched and expanded my.KUKA digital customer platform. With one online registration, customers can purchase robots, source and buy spare parts, manage their KUKA assets, and access training materials and cloud-based software – at any time, from anywhere and on any internet-enabled device.
Purchase new robots and spare parts
KUKA customers can source and purchase new robots directly through the KUKA Marketplace at my.KUKA.com. Basic product information is available without logging in, so even prospective users can view a product overview and details including payloads, reach, mounting positions, motion range, speeds and typical applications. For registered users, the system assists in matching applications and processes with a selection of appropriate robots, including the LBR iisy. Once customers find the right robots, they can order them directly through my.KUKA.
Customers also can select spare parts, check availability and order and purchase them online. From cables and controllers to teach pendants and standalone accessories, my.KUKA offers a wide array of components. The entire shopping process – from product selection and configuration through checkout – provides an experience similar to consumer retail sites. Navigation, design and functionality combine for a cohesive Marketplace experience.
Manage robots and digital assets
Registered users of the my.KUKA platform can enter product data about each of their robots directly into the system. This asset tracking process not only centralizes information about each of the customer's KUKA robots, but also makes it easy to find and order the right parts for each product. The KUKA Parts-Finder system automatically displays itemized applicable spares for each registered robot.
The my.KUKA platform also helps customers track and manage software packages and licenses. Once they log in, they see exactly which software products and versions they have licensed and on how many systems they can install their software.
Track order history
Once customers log in to my.KUKA, they can see their order history and confirm when they made each purchase. The "my Assets" feature lists any registered products and provides a customized view of all purchased items, which simplifies parts orders. Any items purchased through my.KUKA are registered automatically, which saves time and simplifies asset coordination. This readily available asset and order history provides extra ease and convenience for customers with multiple KUKA products.
Find technical information and request support
From questions about using the my.KUKA portal itself to application-based inquiries about processes, programming and robot behavior, my.KUKA unifies customer support. Customers can review open support cases and request assistance directly through the platform, even for complex questions about programming procedures or function failures.
The my.KUKA platform also links directly to the KUKA Xpert knowledge database and the expanded Frequently Asked Questions resource to provide easy access to technical documentation. Furthermore, the iiQKA customer forum provides in-depth articles about the new KUKA iiQKA.OS operating system and the full iiQKA Ecosystem. These forum resources are available even without first logging in to my.KUKA.
Access training options
Along with technical information and product support, my.KUKA also links directly to KUKA training resources, including the my.KUKA getting started resources, with videos and presentations that cover all aspects of the platform. From login and registration to an overview of the Marketplace, robot configurator, order process and parts finder, these resources introduce new users to my.KUKA and give existing customers a tour of new platform features.
The KUKA College training catalog also is linked directly to my.KUKA, so users can book in-person and on-demand virtual instruction for operators, setup personnel, programmers, startup technicians, service and maintenance personnel, and planning and design staff. These courses cover everything from robot and cell operations to installation, commissioning, mechanical servicing, software simulators and program operations.
Redesigned for convenience
KUKA redesigned my.KUKA for easier navigation, quicker access to information and a time-saving, unified shopping experience. The new user interface and expanded product-finding capabilities combine to make my.KUKA an intuitive, easy-to-use destination for in-depth customer resources and support.