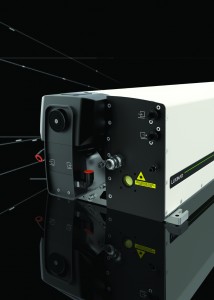 Global laser leader Luxinar announced that it is supporting its agent ASTC as they exhibit the manufacturer's SR AOM series of sealed CO2 laser sources on stand 1216 at Laser & Photonics Taiwan in Taipei, taking place 24-27 August.
Luxinar specialises in the manufacture of laser sources for industries throughout the world including automotive, electronics, glass, packaging and textiles. Its CO2 lasers are available at three wavelengths, 10.6, 10.25 and 9.3 microns, and are widely employed for cutting, perforating, marking and scribing applications. Its femtosecond laser sources are offered at three wavelengths – 1030nm, 515nm and 343nm – and are targeting applications in the electronics, medical device, printing, security and automotive industries.
The SR AOM series, with power ranges up to 150W, is designed to address a wide range of high-precision applications that require a reduced heat affected zone (HAZ), such as multilayer thin film cutting for the display market and high resolution/speed marking. This CO2 laser with integrated acousto-optic modulator (AOM) creates optical rise and fall times of less than 1µs which can minimise unnecessary heat energy from typical pulse rise/fall times of approximately 60µs.
The LXRÒ series represents Luxinar's first range of femtosecond laser sources, a technology that has revolutionised materials processing due to its large dynamic range of average powers (up to 120W), pulse energies (up to 100µJ) and pulse repetition frequencies (single shot-40MHz). Its pulse on demand allows pulses to be evenly spaced regardless of motion speed and the extremely short pulse width of the laser (900 ± 100fs) virtually eliminates heat diffusion to the surroundings of the processed region. These enable ultrahigh precision micro- and nanofabrication of various components with high throughput and repeatability.
"We are looking forward to having a face-to-face presence once again at Laser Taiwan," said Patrick Kim, Regional General Manager of Luxinar's Korea office. "This allows us to easily present our range of laser sources and the benefits of working with a company that has nearly 25 years of experience in laser technology."