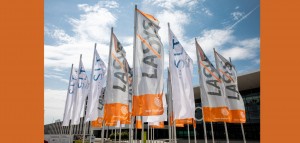 LASYS, the biennial exhibition for industrial laser materials processing, will no longer take place as a stand-alone trade fair.
In a new announcement, the show's organizer, Messe Stuttgart, has said it instead intends to "use and purposefully strengthen the topic of laser material processing in an industrial environment" across the rest of its established events going forward.
Founded in 2008, when the presentation of a fibre laser was reported as one of the highlights, the LASYS trade fair has long acted as a platform for laser firms and institutes to share and demonstrate the latest application and technology developments in laser materials processing.
"Lasers, optics and photonics are still extremely important for Messe Stuttgart," said Vice President Sebastian Schmid. "We want to use our networks to transform our contacts and give the topic areas a platform they deserve. We are planning special areas and technical programme content at our trade fairs and exhibitions – for example at Quantum Effects, NORTEC, AMB, VISION, TecStyle Visions, wetec and Moulding Expo."
The trade fair has traditionally taken place alongside the Stuttgart Laser Technology Forum (SLT), hosted by the University of Stuttgart's Institut für Strahlwerkzeuge (IFSW). The IFSW has told Laser Systems Europe that while it wishes the Forum to continue (SLT 2024 is currently planned from 4-6 June), internal discussions must first take place before the future of the conference can be fully confirmed.