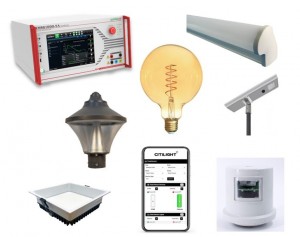 Ahead of the festival of lights, as a build-up to the first post-lockdown edition of LED Expo, the organizer – Messe Frankfurt India gives a glimpse of LED Innovations that will be displayed at the three-day fair in Greater Noida. Smart lights with wi-fi controls, Solar Street Lights, LED Deco bulbs will take center stage as LED Expo opens doors to the industry from 18 – 20 November 2021 at the India Exposition Mart Ltd (IEML).
Regarded as one of the most influential events for the business of LED technology, LED Expo this year will focus on supporting business recovery and localization with made-in-India products and applications for LED technologies. Around 100 Indian exhibitors from across the country are expected to showcase their latest innovations at the three-day fair including leading players such as Tata Communications, Acme Lighting, ALS (Innovative India Illumination), JSB Lighting, Glow Green, GEEP Industries India, CITI Lights, Led Fixtures among others. As the first hybrid edition, LED Expo's physical event will be extended to include additional digital content for the benefit of sector players unable to attend this year. Highlighting the market upheaval amidst the pandemic and rising revenue trends from 2022 onwards, an exclusive Report on the "India Lighting Control System Market" will be unveiled by 6W Research during the fair.
The mega event is being supported by the International association of Lighting designers (IALD), Indian Building Congress (IBC), Energy Efficiency Services Limited (EESL), The Energy and Resources Institute (TERI), KNX Association and the Luminaires Accessories Components Manufacturers Association (LACMA). Alongside the show, the Virtual LED Summit will also cover significant trends affecting the industry under the themes of Blue-light Hazards from LEDs, Lighting Controls and IoT and the role of an architectural lighting designer as well as product demos by K Lite, Ltech, Cygnus Lighting, Aastha LED Lights, Lightberry, Jdianm Lighting P Ltd, Aarenza Die Cast Private Limited, Optiks Mechatronics Pvt Ltd, Sri JSB Lighting Company, Om Circuit Boards Pvt Ltd etc.
Exciting product displays and innovations at the fair:
Made-in-India Smart Street Lights Controllers by Tata Communications IoT enables municipal corporations complete control of city-wide street lighting through a centralised control centre. City Authorities or Campus administrators can manage and monitor the entire street lights (LED's and Non LED's) to achieve additional electricity savings and operational efficiencies.
Smart wifi Light solution by Lightberry, which can convert any light of your choice to intelligent WIFI Light that is energy-saving and can be controlled remotely via mobile app or voice commands.
Completely "Made-in-India" Solar street lights and downlights by GK GREEN POWER From components & physical parts to controller design and finished products, the products are manufactu red completely in India, ensuring self-sustainability.
Vacuum Aluminium Plated LED Lens for Commercial Lighting by Optiks Mechatronics
The EMS-61000-5A SURGE GENERATOR by Everfine specially designed for simulating lightning strike and producing high voltage energy integrated with alarm and fault notification systems
Introducing the made-in-India Angular T5 batten by KORIN OPTOELECTRONICS LLP that provides vertical lighting benefits, covering more than 75% area and highly energy saving
Architectural Road & Urban Luminaries, designer poles and façade Lighting Landscape Luminarie by JDIANM LIGHTING
Lighting automation systems and smart street lighting services for smart cities, municipal & ULB projects by CITI Lights
Decorex's high-end, environment-friendly architectural indoor-outdoor lighting by Sri JSB lighting company