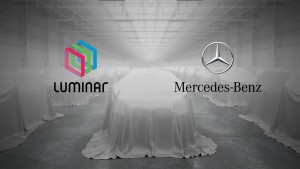 Luminar, a global automotive technology company, expanded ts partnership with Mercedes-Benz to safely enable enhanced automated driving capabilities across a broad range of next-generation production vehicle lines as part of the automaker's next-generation lineup. Luminar's Iris entered its first series production in October 2022 and the company's Mercedes-Benz program has successfully completed the initial phase and the associated milestones.
After two years of close collaboration between the two companies, Mercedes-Benz now plans to integrate the next generation of Luminar's Iris lidar and its associated software technology across a broad range of its next-generation production vehicle lines by mid-decade. The performance of the next-generation Iris is tailored to meet the demanding requirements of Mercedes-Benz for a new conditionally automated driving system that is planned to operate at higher speed for freeways, as well as for enhanced driver assistance systems for urban environments. It will also be simplifying the design integration with a sleeker profile. This multi-billion dollar deal is a milestone moment for the two companies and the industry and is poised to substantially enhance the technical capabilities and safety of conditionally automated driving systems.
"Mercedes' standards for vehicle safety and performance are among the highest in the industry, and their decision to double down on Luminar reinforces that commitment," said Austin Russell, Founder and CEO of Luminar. "We are now set to enable the broadest scale deployment of this technology in the industry. It's been an incredible sprint so far, and we are fully committed to making this happen – together with Mercedes-Benz."
"In a first step we have introduced a Level 3 system in our top line models. Next, we want to implement advanced automated driving features in a broader scale within our portfolio," said Markus Schäfer, Member of the Board of Management of Mercedes Benz Group AG and Chief Technology Officer, Development & Procurement. "I am convinced that Luminar is a great partner to help realize our vision and roadmap for automated and accident-free driving."
Luminar is a global automotive technology company ushering in a new era of vehicle safety and autonomy. For the past decade, Luminar has built an advanced hardware and software platform to enable its more than 50 industry partners, including the majority of global automotive OEMs. From Volvo Cars for consumer vehicles and Daimler Truck AG for commercial trucks, to tech partners NVIDIA and Intel's Mobileye, Luminar is the first automotive technology company to enable next-generation safety and autonomous capabilities for production vehicles.