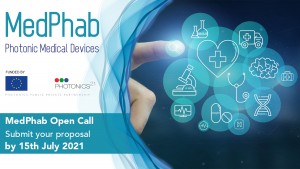 MedPhab, Europe's first pilot line for photonics-based medical devices announces a call for proposals to support companies adopting advanced photonics technologies for the development of new medical diagnostics solutions.
MedPhab offers modular technology blocks including photonics technologies, non-photonic peripherals, system integration and post-processing steps. This modular concept enables a structured approach to highly fragmented heterogeneous photonic and non-photonic technologies such as microfluidics or surface functionalization from early phase proof-of-concept to regulated pilot production. The photonics technologies offering within MedPhab comprises fiber optics, photonic reader modules, photonic integrated circuits, micro-optics and active components provided by parties with ISO13485 certificate.
The technology offered by MedPhab can help companies to develop diagnostic solutions for hospital use to enable real-time information and monitoring of the treatment progression; novel home care services, and equipment for molecular diagnostics based on serum, saliva or urine samples.
The MedPhab Open Call provides financial support for pioneer business cases. European-based SMEs may receive a subsidy of 75% of their innovation project, whereas large-scale European companies receive a 50% subsidy. The first cut-off date for expressing your interest is July 15th, 2021.
To learn more about MedPhab and the Open Call, visit www.medphab.eu. Additionally, join the webinar on May 11th at 11:30 CEST, where the Open Call selection criteria and application mechanisms will be detailed.