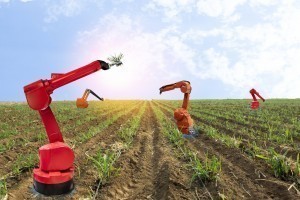 The world is facing huge challenges due to climate change, dwindling availability of arable land and fresh water, and ever-increasing population growth. Vertical agriculture and new production methods are the levers for ensuring adequate supplies for the world's future population.
This is precisely where the new VertiFarm show comes in as an international hub for vertical farming and new food systems, offering solution tactics for addressing global issues such as security of supply, crop failures, food supplements, energy efficiency and urban sustainability. The three-day exhibition featuring market leaders, trendsetters and pioneers will present a comprehensive range of product innovations and systems all aimed at making agriculture sustainable. The international exhibitor mix will include suppliers from Germany, Sweden, the United Kingdom, China, South Korea, the US, Switzerland, the Netherlands, Italy and Australia.
For example, TTA will be attending this new event to present its plant processing and sorting machinery. Weiss Klimatechnik will be showing efficient climate solutions for tomorrow's agriculture, and Italian exhibitor IGROX will be bringing cutting-edge LED technology to the show. Würth Electronics, a supplier of components such as LED lighting for the horticultural industry, will also be exhibiting at VertiFarm. The company is proactively supporting tech pioneers in the development of innovative lighting systems. Other major players in the industry will include Intelligent Growth Solutions (IGS), a platform specialist for optimum climatic conditions, Intravision, a photobiology and systems integration company, indoor farming network partner Cultivatd, and Dexion Storage Solutions with its offering of smart solutions.
Also coming to Dortmund from abroad will be SANANBIO, a Chinese expert in climate control and humidification of planting areas, Canobi Ag Tech from Canada, a global platform for integrated monitoring and automation technology, and Swedish company GROWPIPES with its scalable vertical farming solutions.
VertiFarm – the innovative platform for start-ups and young businesses
This still young industry is also attracting numerous start-ups to the first VertiFarm: HarvestAi will be providing information on forecasting models for indoor farms to predict harvest date and yield. AABSOO's proposition includes climate-controlled agriculture, scalability of urban farming in greenhouses, resource efficiency and monitoring, and exciting insights will also be on offer from InvertiGro, 'Australian AgriPreneur 2021', with plug-and-play solutions for sustainable and affordable food production.
Other new players
The company elements green Germany, founded just this year, will be presenting its renewable energy solutions. Table systems, container systems, irrigation systems and watering trolleys used in Germany and other European countries will be on show at the Knecht – greenhouse equipment stand, and RHENAC Green Tec AG will be presenting its diverse line-up of energy-efficient LED lighting and control systems for optimum plant growth.
Anyone wanting to get an overview of the extensive range of products and services offered by suppliers can find out more about the exhibitors online.
Click here for the List of Exhibitors
The importance of the new VertiFarm show is also underlined by Dr Nicole Armbrüster who heads up the Biological & Plant-Based Medicines business unit at the German Pharmaceutical Industry Association which is inviting its members to attend VertiFarm: "Especially in times of crisis, it is important to be able to secure supply channels for the population. In times of Covid, the impact of climate change and associated supply bottlenecks, and also in terms of sustainability, this is also a major challenge for the pharmaceutical industry. The new VertiFarm show is the first joint platform offering comprehensive information and networking opportunities, and helping identify fresh approaches."
Supporting programme with a wide range of topics
The accompanying programme of events offering specialist knowledge modules on the VertiFarm stage will address issues associated with technology, new food systems, financing, business models, consumer acceptance, AI, robotics and automation, to name but some. Under the heading of 'Unifying New Food Systems – To grow out of niche', the Association for Vertical Farming's 6th AVF Summit between 27 and 29 September 2022 plans to address topics such as synergies with existing infrastructure, geographical trends, future food systems, the symbiosis of science and industry, and sponsorship for success. The Retail Day being organised by the retail climate protection campaign in partnership with the North Rhine Westphalia Retailers' Association for 28 September will offer retailers and resellers in particular practical information and advice on innovations and trends, the market situation and business models as well as financing options and consumer expectations. Attendance at this event will be free of charge for retailers.