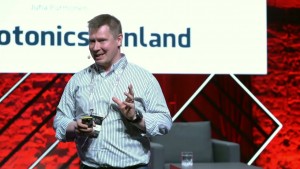 Finland's photonics industry is currently worth around €1.2 billion a year and employs 4,200 people. Of the 260 companies working in photonics, 60 (30%) have been created since 2016 and our key photonics competences are optical sensing and imaging, micro- and nano-photonics, lasers and fiber optics and VR, AR, MR & XR. Since 2014, Photonics Finland has helped to drive photonics in Finland by operating as an industry-driven, multidisciplinary technology cluster, with the aim of facilitating new openings in photonics research, supporting the market launch of new products, creating new business and improving the visibility of photonics in Finland and abroad.
Carlos Lee, EPIC's Director General, had the chance to talk to Juha Purmonen, Executive Director of Photonics Finland, to learn about how technology cluster was launched and how it is driving the photonics industry in Finland.
What's the background to you becoming Executive Director of Photonics Finland?
In 2002, I graduated from the University of Eastern Finland with an MSc in Applied Mathematics. At that time, because of the influence of Nokia, everybody was studying signal processing and I did my master's thesis in cryptography. This involved a placement as a software engineer at PT-Controlnet, where I developed different types of cryptography solutions for non-secured Bluetooth connections. Then, in 2003 I started a PhD in Spectral Colour Research & Photonics focusing on spectral video compression and the development of techniques in spectral imaging, colour science, and machine vision for industrial applications.
My research involved an 6-month placement at the National Institute and Communications Technology of Japan and three years as a researcher at the InFotonics Center Joensuu, in Finland, where I developed commercial applications for spectral video compression.
In 2005, I decided to use my research experience to co-found my own company, SoftColor Oy Ltd, with my partner, Petri Piirainen. With both of us having a background in digital signal processing, computer graphics and physics, our aim was to focus on developing automatic image processing based on our own patented technology for automatic colour correction.
Although the company developed quite well, in 2010, I became Development Manager at the Joensuu Science Park Ltd., responsible for developing photonics projects and leading their nanotechnology cluster program. By 2012, it had become apparent to me and others working in photonics that Finland needed to establish its own national platform in optics and photonics as Sweden had done in 2011. Accordingly, in 2012, I became part of a 2 year project, funded by the Finnish regional governments, to make recommendations for setting up a national cluster of photonics companies and universities to share information and promote business opportunists for photonics in Finland. The result was Photonics Finland, which was created in 2014, and as I had taken a leading role in the project and had experience of developing the Joensuu Science Park cluster program, I was appointed Executive Director.
What were the main challenges in setting up Photonics Finland?
The first challenge was the need to convince prospective members that Photonics Finland would function as a truly national organisation and not just serve the interests of the bigger companies and a few of the more prosperous economic regions. To address this issue, we have always been transparent and ensured that the Board of Directors is composed of representatives from all of the main cities in Finland. The second challenge was to balance the needs of academia and industry, which obviously have different interests. We had the case of Photonics Sweeden very much in mind and we knew that it was vital that academia and industry were in the same organisation. It wasn't working and they advised us to combine representatives from industry and academia under the same umbrella. Initially, some of the industry representatives in Finland were wary of joining an organisation that had academics on its Board because of the fear that most of the resources would go into academic research. To overcome this problem, we established a system whereby the Chairperson only holds office for two years and the position alternates between a person from industry and someone from academia, and when the chairperson is from academia his or her deputy is from industry and vice vera. There is the same balance in the other 6 members of the Board with 50% from academia and 50% from industry.
How has Photonics Finland developed?
We currently have 277 individual and 105 company/societal members with a fifty-fifty split between academia and industry. The main part of our activities is organising events and meetings around Finland, with the technology topic depending on what's important for each city. For example, Kuopio specialises in healthcare and medical applications while Koli has a history in Forest & Photonics. We try to take photonics to as many cities as possible and for this reason, our annual event "Optics and photonics days" as well as our participation in 'The International Day of Light' are held in a different city each year. We also organise annual pavilions at international exhibitions like Photonics West and Laser Word of Photonics for interested companies.
Nowadays, recruitment is very important, so we have a "job board" for members to post their own vacancies with their own text. And connected to future recruitment, is our promotion of the Photonics Explorer Kit for Schools. Over 100 kits have been distributed in Finland with the aim of educating and encouraging secondary school students to study STEM subjects and consider a career in photonics.
Finally, an important development is that Photonics Finland now has its own legal identity, which enables us to participate in and receive funding from various European projects like PhotonHub Europe that has enabled us to give Finish companies access to expert advice and advanced photonics technology platforms. Another EU project is Photonics4Industry, which was set up to strengthen cluster management and create exchange opportunities with other photonics clusters in Europe. Also, in collaboration with Photonics21, we conduct surveys to gather data to compile annual reports on the photonics industry in Finland, as well as on specific markets such as the food and forestry sectors.