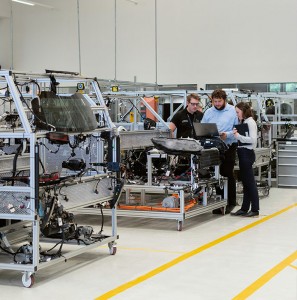 PhotonVentures has launched a venture capital fund aimed at early-stage photonic chip startups and scale ups. €60 million was raised in its first financing round with PhotonDelta as the lead investor alongside numerous private investors.
PhotonVentures plans to raise a total of €100 to €150 million, with its final close set for the start of 2024. It will prioritise Series A rounds, with the aim of providing investments between €1 million - €2.5 million. PhotonVentures' investment strategy leverages on the Dutch PhotonDelta ecosystem to accelerate European startups and scale-ups.
PhotonVentures is an independent deep tech venture capital firm that has emerged from PhotonDelta, the pioneering force behind the Dutch integrated photonics ecosystem. The two organisations are strategic partners with the aim of supporting the rapid growth of Europe's photonics industry. Photonic chips* are critical in a range of applications like quantum computing, robotics, sustainable agriculture, and autonomous vehicles.
The fund is planning to initially invest in 15 European deep-tech companies that have potential to grow into international winners in their sectors. The startups should have an integrated photonics-based MVP connected to the European ecosystem.
Founded in 2014, PhotonDelta has made significant investments in photonics companies and R&D over the last five years. In backing the fund, PhotonDelta has taken another step forward in its goal of building a world leading industry for integrated photonics in the Netherlands and Europe. Last year, PhotonDelta secured €1.1 billion in public and private investment to scale up production, build 200 startups, create new applications for photonic chips and develop infrastructure and talent.
PhotonDelta is a lead investor in the fund via the transfer of its portfolio to PhotonVentures.
The PhotonVentures board consists of Joachim de Sterke, Pieter Klinkert and Rijkman Groenink. Joachim de Sterke has a financial, legal and technical background with long-term investment experience. As co-founder and CFO of PhotonDelta he was responsible for the entire investment process and guidance of the young companies in the ecosystem. Pieter Klinkert joined PhotonDelta in 2021 and previously was investment manager at OostNL and held positions in financing and corporate investment at various banks. Rijkman Groenink is a former banker with vast experience in the financial sector.
Joachim de Sterke, General Partner at PhotonVentures, said: "There are hundreds of incredibly promising startups and scale-ups driving development and application of photonic chips that need investment and support to take the next step on their journey. PhotonVentures fulfils this need, it is the only fund geared directly towards photonic chip startups and scaleups. Our aim is to play an instrumental role in making Europe a global leader in integrated photonics. We will continue to expand our fund to enable us to invest in scores of startups over the next few years."
René Penning de Vries, Chairman of the Supervisory Board of PhotonDelta, said: "The integrated photonics industry is growing quickly but is short of investors with the knowledge and funding to back the sector's ambitions. This is why creating the specialised fund PhotonVentures marks a significant milestone for the photonics industry and one which we are proud to be a part of. By transferring its existing portfolio, PhotonDelta was able to leverage its assets to attract more funds and kickstart the creation of PhotonVentures."