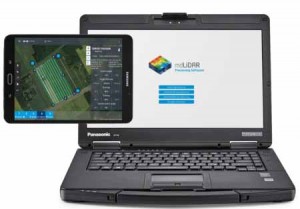 Microdrones announces the launch of mdaaS- Microdrones as a Service, making its survey equipment and solutions accessible to an even broader market of surveyors and geomatics professionals.
MdaaS introduces drone surveying solutions, including everything needed to do drone LiDAR and surveying the right way, with convenient hardware and software packages and affordable monthly payment options as low as $1,042 USD.
Surveying and geomatics professionals will be able to configure and optimize their survey equipment, service and software selections according to business needs and anticipated usage.
Post processing specifications are selectable in Microdrones proprietary mdInfinity data processing software, so that expense can be matched on a project-by-project basis to the data deliverable demands of the client.
Microdrones customers start by deciding which system(s) meet their overall needs, selecting from the mdLiDAR, mdMapper and mdTector families of fully integrated technology.
On Wednesday, May 13th, 9:00AM EST or 6:00PM EST Microdrones is offering an educational webinar, "mdaaS: An easy way to Make Drone LiDAR and Drone Surveying a Part of Your Business." The webinar will help customers understand their options within the program, and to configure what might be best for them.