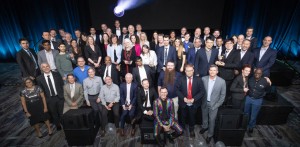 At Photonics West 2023, SPIE announced the 2023 Prism Award winners, recognizing the top-rated new optics and photonics products.
Each year, the SPIE Prism Awards reflect the rapidly growing trajectory, exciting latest developments, and rich technical innovations across photonics and photonics-enabled industries. This year, the annual ceremony honored a range of established and emerging companies applying innovative and creative solutions to critical problems in areas such as augmented and virtual reality, sensors, lasers, quantum technology, and biomedical optical solutions. For consideration in the 2023 Prism Awards, SPIE received 76 applications from 19 countries.
Finalists and winners were selected by a panel of international judges who leveraged their knowledge and acumen from across the technology commercialization and funding sectors. The distinguished judges' roster included the FDA's Zane Arp, iFocus' Adi Diner, AXA-XL's Simi George, MKS Instruments' Marc D. Himel, Coherent's Qiongying Hu, Chromacity's Shahida Imani, Teledyne Princeton Instruments' Jason McClure, Technology Scotland's Alison McLeod, Tesseract Health's Nishant Mohan, Engender Technologies' Cather Simpson, Ceres Technology Advisors' Linda Smith, TOPTICA's Mark A. Tolbert, and Nanovation's Ferechteh Teherani.
"The Prism Awards always showcase an impressive spectrum of innovative solutions based on optics and photonics technology," said SPIE CEO Kent Rochford. "By providing products powered by photonics, all of these companies - and I am including the finalists as well as tonight's winners - are offering a terrific array of impactful technologies that will transform lives across the world. I am so excited to be here tonight to congratulate them in person."
Below is the complete list of the award categories, the winners, and their winning products:
AR VR MR: TriLite Technologies, Trixel 3
Biomedical: Philophos, KUOS-O100
Cameras and Imaging: Metalenz, PolarEyes
Lasers: Kyocera SLD Laser, LaserLight LiFi System
Quantum Tech: QuiX Quantum, 20-mode Quantum Photonic Processor
Sensors: Ocean Insight, SpeedSorter
Software: Dotphoton, Jetraw
Test and Measurement: Precitec Optronik, Flying Spot Scanner (FSS 310)
Photonics Media is the promotional sponsor of the SPIE Prism Awards. For more information on the Prism Awards and the 2023 winners, please visit the official website: www.photonicsprismaward.com/