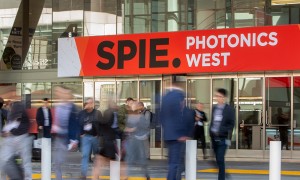 Hello SPIE Community,
We've received many questions about whether Photonics West is occurring in San Francisco, and I would like to address the key issues. Yes, SPIE will proceed and host an event for people who are able to connect and exchange ideas in person. This is predicated on proof of vaccination, mask requirements, and other measures following city, state, and federal guidelines.
Our volunteers and presenters have created an attractive and valuable technical program with many opportunities to learn and share ideas. We know from the last 22 months there is no online substitute for personal interaction with other attendees. I find this unique opportunity for dialogue invaluable and energizing.
We have over 2,300 in-person presentations planned, around 1,000 exhibitors to see, and expect more than 10,000 people to attend. There are plenty of opportunities to make connections that will not occur otherwise.
All of us are eager to reconnect in the physical presence of our colleagues and peers. SPIE is providing us with this opportunity at Photonics West. I hope you will read the health and safety rules and feel encouraged to join us. SPIE staff will be on hand to support you at Moscone and further, to help reduce risk and facilitate return travel, SPIE has arranged an on-site healthcare provider to conduct rapid antigen and PCR testing available (for a fee) to supplement local testing.
I realize many people are apprehensive or unable to travel given today's conditions. For people who cannot attend, SPIE is providing the opportunity for on-demand content of all material uploaded and presented live. These recorded presentations will be accessible 21 - 27 February, four weeks after Photonics West. Details on how to access the recorded presentations will be posted after the in-person meeting has concluded.
I look forward to a successful and inspiring meeting where we can see one another in person.
Sincerely,
Anita Mahadevan-Jansen
2022 SPIE President