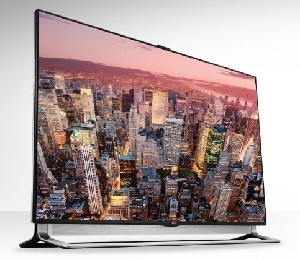 The ultra-high-definition (UHD) panels now being adopted by televisions are primed to make significant headway this year in the digital signage market for advertising and information, according to analysis from the digital signage service of IHS technology.
Shipments in 2014 of UHD panels aimed specifically for digital signage purposes will reach an estimated 145,000 units, up 590% (nearly sevenfold) from 21,000 units last year. The tremendous surge in the market is the first real growth for digital signage displays featuring UHD (also known as 4K because the panels feature four times the resolution of full high-definition [HD] 1080-pixel [p] panels).
This year will mark the first real growth spurt for the panels after an initial low starting base in 2013 and the market will continue to support remarkable expansion in the years to come. By 2018, UHD digital signage shipments are expected to approach 656,000 panels, as shown in the attached figure.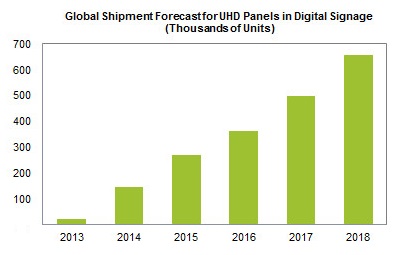 The digital signage market includes displays used for both digital out-of-home communications and commercial applications. Digital signage deploys advertising, branding, entertainment and information to its target audiences using a network of displays in which content can be remotely controlled, managed and updated. Growth in digital signage comes from its proliferating use in installations for commercial markets such as the retail and hospitality industries, the government and corporate sectors and public areas such as sports venues.
As UHD technology becomes more readily available this year, display costs are also expected to decline. Such a development, in turn, will encourage more 4K installations to take place, especially in price-sensitive digital signage markets.
Content drawn from the UHD consumer space could likewise be repurposed, given that the trends and technologies driving the consumer market tend to highly influence digital signage as well.
Despite the impressive growth of the UHD market for digital signage this year, the panels constitute a mere drop in the bucket for the overall UHD display space. UHD panels intended for liquid crystal display (LCD) TV sets will reach 10 million units in shipments this year, on their way to some 40 million pieces by 2018.
Digital signage utilising UHD displays first appeared at the McCarran International Airport (LAS) in Las Vegas, Nevada (US) in 2013. There, LG Electronics introduced the industry's first 4K panels, making use of 84-inch displays as a way-finding application. Later, Delta Airlines followed suit, also using LG's 4K panels to enhance the carrier's passenger lounges and create an upscale digital wallpaper experience for travellers.
Also in 2013, California (US)-based NanoTech Entertainment announced availability and pricing for an all-new 4K media player, called the Nuvola NP-1, which supports 4K UHD content for digital signage. Similarly, Taiwan's Nexcom released a new media player, the NDiS M533 OPS, featuring premium graphics, improved system responsiveness, remote manageability and 4K UHD content support. Another Taiwanese player, QNAP, introduced the 4K-ready iS-2840 digital signage player, which is able to combine four screens into one dynamic 4K video wall.
Other notable UHD digital signage developments in 2013 included software and firmware upgrades by California-based BrightSign for up-scaling 1080p video content to 4K and advances made by GestureTek Systems, also in California, allowing for the configuration of a wide array of 4K multi-touch panels, ranging from 32-inch to 84-inch displays.
Many Chinese manufacturers are looking to conquer overseas digital signage TV markets, hoping to be competitive by offering lower-priced product against the high-end offerings of Tier 1 brands such as LG, Samsung and Sony.
However, the Chinese brands, including Hisense, Seiki, Skyworth, Changhong and Haier, all lack global recognition, according to Kelly Lum, analyst for digital signage and public information displays at IHS. Other than the significant disparity in price for the Chinese offerings, the products offer few additional benefits. Picture quality also lags behind that of the leading brands and the products overall lack refinement, Lum noted.
Pricing remains the biggest challenge for 4K UHD displays and, by extension, the panels used in such sets. Although there are more than 20 models featuring 4K resolution from the major manufacturers currently on the global market, pricing remains steep and out of reach for most consumers.
Many manufacturers are also selling consumer display lines into the commercial market. This has the effect of further muddling the previously clear-cut distinction between retail TVs and commercial digital signage, which has specific requirements in hardware and software for disseminating information and entertainment.
The digital signage industry will also need to contend with other obstacles before UHD panels fully take off within the space, IHS believes. These include: infrastructure and investment costs associated with upgrading; the requirement for additional bandwidth to support 4K content; and the harmonising of hardware specs, such as frame rates, brightness and dynamic range, all of which could be impacted by the resolution upgrades while they are in the process affecting the quality of images being shown on the displays.