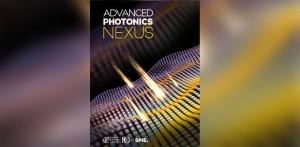 Advanced Photonics Nexus, an Open Access journal co-published by SPIE, the international society for optics and photonics, and Chinese Laser Press (CLP), anticipates publication of its first issue in the second half of 2022.
Advanced Photonics Nexus, which will be accessible online in the SPIE Digital Library, as well as on CLP's Researching platform, is a Gold Open Access international journal publishing novel results of high significance and broad interest in all areas of optics and photonics. The journal's particular focus is on original papers, letters, and review articles that reflect important advances in fundamental and applied aspects of optics and photonics. Advanced Photonics Nexus is a sister journal of the highly selective international journal Advanced Photonics. Like its sister publication, Advanced Photonics Nexus ensures fast-track publication of high-quality submissions.
The journal's Co-Editors-in-Chief are Xiao-Cong (Larry) Yuan, of Shenzhen University, Anatoly Zayats of King's College London, and Weibiao Chen, director of the Shanghai Institute of Optics and Fine Mechanics. Research areas covered include but are not limited to imaging systems, metamaterials, nanophotonics, optical fibers, quantum optics, ultrafast optics, biophotonics, and lasers.
"We are very grateful to the optics and photonics community for their support and trust in the Advanced Photonics journal, and we plan to develop this new venture, Advanced Photonics Nexus, to further serve researchers by providing rapid dissemination of their important results," notes Zayats. "One of the meanings of 'nexus' is a central or focal point. We hope that this new journal will be a focal point for our existing as well as new authors and readers across all fields of optics."
"We are excited to expand our publishing partnership with Chinese Laser Press," says SPIE Director of Publications and Platform Patrick Franzen. "This marks an important next step in our ongoing commitment to support and disseminate the innovative work of optics and photonics researchers from around the world, and to make scholarly communications more efficient."
Advanced Photonics Nexus marks the third publication partnership between SPIE and CLP. This year, the two organizations will also launch Photonics Insights, an invite-only, Diamond Open Access journal featuring review articles that cover the core subjects of photonics — including laser optics, quantum optics, nonlinear optics, optical communications, and nanophotonics — as well as exploring the intersection of optics and photonics. Photonics Insights Co-Editors-in-Chief are Fudan University's Lei Zhou and Hong Kong Polytechnic University's Din Ping Tsai.
The SPIE Digital Library, the world's largest collection of optics and photonics applied research, comprises more than 540,000 publications.