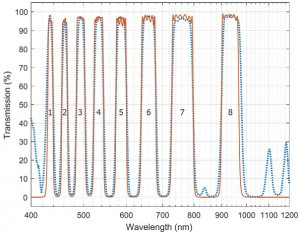 Alluxa, Inc., a global leader in high-performance optical coatings and filters and thin-film deposition technologies, announces the ground-breaking development of 15-band optical filters for use in the Exoplanet Transmission Spectroscopy Imager (ETSI) instrument at Texas A&M University, Mitchell Institute for Fundamental Physics and Astronomy, and Department of Physics & Astronomy. ETSI is the first precision instrument that can examine hundreds of exoplanet transmission spectra from a modest ground-based, observatory utilizing small to medium-class telescopes.
The ETSI makes use of a new characterization technique called common-path multi-band imaging (CMI). The optical design of the instrument includes a prism and Alluxa's novel mutli-band optical filters to simultaneously image 15 bandpasses on two detectors (from 430 nm - 975 nm) during exoplanet transits of a bright star. This pioneering design enables ETSI to achieve unprecedented photometric precision during transit spectroscopy measurements.
"ETSI and the CMI technique may offer a gateway for characterizing almost all transiting exoplanets and potential habitability from ground-based observatories," according to the collaborative white paper from Texas A&M University and Alluxa, Inc.
Image: Graph showing transmission of the custom multi-band filters designed by Alluxa for the ETSI instrument.