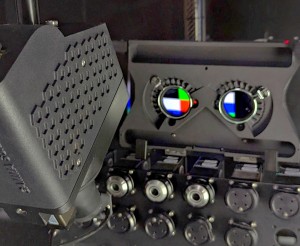 Gamma Scientific announced that its innovative new offering, NED Rx Tester, was chosen to be a 2023 SPIE Prism Awards Finalist in the category of Test and Measurement.
The NED Rx Tester is the world's first test system allowing AR/VR device makers to fully test their headsets across a broad range of human vision corrections including astigmatism, nearsightedness (myopia), and farsightedness (hypermetropia).
The technology provides comprehensive testing, measurement, and verification for manufacturers to embed their end users' custom eye prescriptions into vision-corrected AR/VR equipment. Gamma Scientific strives to create a safe, seamless, and impactful digital experience while maintaining highquality see-through performance metrics.
AR/VR manufacturers can easily integrate these test platforms into high-volume production environments—extending their reach to 75% of the adult population who require vision-corrected glasses worldwide. The fully automated software test suite provides immediate insight, as well as comprehensive measurements for analysis after testing.
"Vision accommodation in AR/VR is essential for achieving mass consumer adoption of the technology," said Sonika Obheroi, Product Manager of AR/VR test solutions at Gamma Scientific. "Combining a user's custom eye prescription into an already complex AR/VR optical architecture and precisely characterizing the resulting see-through performance is a daunting challenge.With the NED Rx tester, we have automated testing by uniquely mimicking any given human eye the AR/VR could be custom-designed for, thereby helping device-makers quantify & predict end-user experience."
Kong Loh, CEO of Gamma Scientific affirmed, "It is exciting to develop technologies leveraging our experience and expertise that help our customers, as well as their end users, enjoy a reliable and more immersive experience in AR/VR."
The family of NED testing solutions by Gamma Scientific conforms to the latest standards developed by the IEC and SID, including ongoing contributions to the International Committee for Display Metrology (ICDM), part of SID's Definitions and Standards Committee charged with setting standards for AR/VR display metrology. About Gamma Scientific For over 60 years, Gamma Scientific has delivered hi