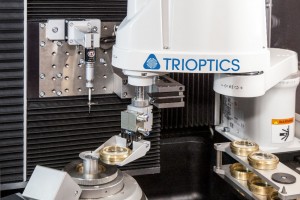 At the Optatec trade show in Frankfurt, Germany, and for the first time ever in Europe, Trioptics presented robot-based automation solutions for loading the OptiCentric 100 centration inspection system and the ATS 100 alignment turning station for volume production.
For many years, Trioptics has supplied automated systems to increase the efficiency of optics production. This is especially true for all solutions used to center and inspect lens systems. For the company, one reason for focusing on automation is that it increases the process reliability of our systems. But they also state that, unfortunately, in many processes, operators are the limiting factor for accuracy and process time. Here, robotic processes allow improvements. As a result, many processes in the OptiCentric systems and in the ATS alignment turning station have been automated for years.
Now Trioptics is taking automation to the next level. In volume production, operators used to insert the lenses manually and then start the process, whereas now, they are using robots that do the loading and unloading process in one operation while the operator does other jobs or loads lens trays into other systems.