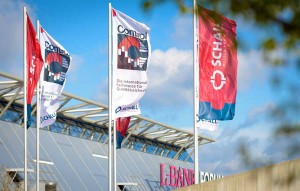 This year is the 30th anniversary of Control, the leading trade fair for quality assurance. While the strong domestic industry players traditionally dominate the show floor at Control in Stuttgart, for the first time 30% of exhibitors came from 31 nations outside of Germany, according to Gitta Schlaak, project manager of Control.
In total 914 companies were present in the four show halls this year and 26,000 visitors from 92 countries were counted during the four show days. Obvious at this show was the continuing integration of the previously separate disciplines of machine vision and metrology. More and more measurement tasks are being performed with equipment typically used for image processing, such as the 3D Imager from Faro, a stereo vision based measurement system using structured light. The five-axis non-contact 3D metrology system from Nikon Metrology is another good example. It is mainly designed for gear inspection and uses a laser scanner together with a finder camera and a camera for point cloud acquisition.
In parallel, with Nikon Automated CT the company sees a high potential for the use of CT-technology in the industry, in particular when it comes to inspect the inner structure of turbines, weld seams or crack analysis in components. 3D-Shape GmbH which is part of the ISRA VISION Group presented a stand-alone solution for optical 3D object and surface measurements in the nanometer range with particularly robust construction. It allows direct in-line use and enables both manual operation and automated integration into the production process. Digital microscope inspection systems for industrial use were presented by a number of suppliers, amongst them Ireland-based Ash Technologies and Qioptiq Photonics.
Having the technology already applied in the recycling business, Austrian BT-Anlagenbau presented its HSP Food Analyzer in Stuttgart for the first time. The company was one of the few in Stuttgart concentrating on the food business and presented a hyperspectral data processing solution, the technology that currently makes inroads in the machine vision sector. Math & Tech Engineering highlighted at its stand a 2D/3D optical learning system for inspection of metallic surfaces; and start-up company Nerian presented a stereo vision system for embedded real-time stereo matching that also works in bright daylight and through an integrated FPGA and produces a dense disparity map.
"Measurement processes more and more become the basis for the entire production control", was a statement during the Zeiss press conference, which was followed by a series of examples from the various Zeiss departments of how this will be soon implemented. Zeiss predicts that the entire metrology environment will be digitalized in the next 3-5 years. This new "smart metrology room" will allow new features such as predictive maintenance and the entire display of produced parts in Virtual Reality. In addition, similar to Nikon Metrology Zeiss believes in the future of X-ray for metrology. The movement of measurement tasks into integrated processes is underlined by a quite prominent name change: Hexagon Metrology has ceased to exist and is now known as Hexagon Manufacturing Intelligence. According to CEO Norbert Hanke the new name much better reflects the companies' capabilities in data-driven industrial manufacturing solutions. After an impressive series of acquisitions in the last decade – the latest being 3D scanning systems for inspection and reverse engineering specialist AICON only weeks before Control 2016 – one can understand the path Hexagon pursues.
Quality assurance experts can mark the date for the 31. Control, which will take place from 09 – 12 May, 2017.
Written by Andreas Breyer, Senior Editor, Germany, Novus Light Technologies Today