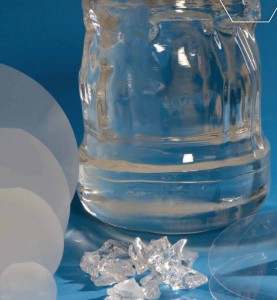 Rubicon Technology, Inc., a provider of sapphire substrates and products to the LED, semiconductor, and optical markets, announced that Dr. Jonathan Levine, Director of Technical Business Development, will be speaking tomorrow about the "Synthesis and characterization of large optical-grade sapphire windows produced from a horizontal growth process" from 11:50 a.m. until 12:10 p.m. in Room 329 in the Baltimore Convention Center.at the SPIE Defense, Security + Sensing 2013 conference taking place this week in Baltimore, Maryland (US).
In addition, Rubicon will showcase its line of optical products for use in defense and aerospace,instrumentation and analytical processing, sensors and detectors, semiconductor process equipment, and medical and laser applications at the SPIE Defense, Security and Sensing 2013 exhibition from April 30 through May 2 at the Baltimore Convention Center in booth #920.
Until now, existing methods used to produce optical-grade sapphire windows haven't met demands for thickness and size in certain military and other applications. Rubicon's new technological platform is capable of growing panels of much greater thickness. Dr. Levine will discuss Rubicon's research into a new horizontal growth process to produce monolithic sapphire sheets large enough for use in next generation optical windows for military and civilian applications.
Sapphire is a desirable material for high-performance applications due to its optical transparency, physical strength, resistance to abrasion and corrosion, temperature durability, chemical inertness, and bio-compatibility. As a result, it is ideally suited for extreme environments where material durability is just as important as optical clarity.
Rubicon will have a number of optical sapphire products of different sizes and orientations on display at SPIE Defense, Security and Sensing 2013along with a wide range of sapphire products including sapphire cores, ingots, windows, domes and blanks. Rubicon will also be displaying large diameter wafers ranging in size from 4 to 6 and 8 inches.
Rubicon Technology, Inc. is an advanced electronic materials provider that is engaged in developing, manufacturing and selling monocrystalline sapphire and other crystalline products for light-emitting diodes (LEDs), radio frequency integrated circuits (RFICs), blue laser diodes, optoelectronics and other optical applications. The Company applies its proprietary crystal growth technology to produce very high-quality sapphire in a form that allows for volume production of various sizes and orientations of substrates and windows. Rubicon is a vertically-integrated manufacturer with capabilities in crystal growth, high precision core drilling, wafer slicing, surface lapping, large-diameter polishing and wafer cleaning processes, which the Company employs to convert the bulk crystal into products with the quality and precision specified by its customers. The company is a leader in larger diameter products to support next-generation LED, RFIC and optical window applications.