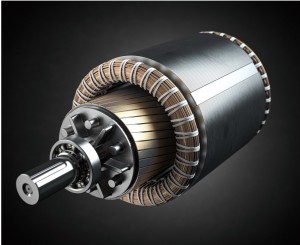 Manufacturers need automated processes to boost productivity and speed products to market in order to remain competitive. Production machinery also needs to be ultra-reliable and operate at the required capacity. At the heart of such automated processes is reliable and repeatable motion control which is critical for keeping production lines operating optimally, and in turn reducing lost time due to manual intervention.
ALIO Industries has been at the vanguard of innovation in nanometer-level precision motion control solutions for over 20 years, and is a specialist in the area of development of motion control systems for industrial automation and manufacturing. The company advocates that designers when specifying motion control for their specific applications, do not feel forced to choose the least expensive solution for the application as it exists today, but choose a system that operates optimally as application requirements change and evolve over time.
Peter Lehner, Sales & Marketing Director at ALIO says, "When specifying a motion control solution for exacting industrial manufacturing applications, beyond an analysis of the specific functionality of a particular system, it is also of vital importance to analyse how an application is likely to develop in the medium to long-term (i.e what new functionality or sub-systems will be required over time) and, for example, what space constraints that may dictate system architecture and component choice. A snap decision when specifying a motion control solution may be costly later in the product development process. There are some common mistakes. First, and most common, a motion control solution is specified without enough focus on the end application. Often, the motion control system is selected first, either from a supplier that is familiar, or one that seems to have all the latest bells and whistles. Choosing the motion control system first can lead to the use of components not ideal for the end application, and workarounds to get a system to work correctly which increases development time and costs. Also, without an eye on the future, a hastily chosen motion control system will limit new functionality, and while choosing the least expensive solution may seem prudent in the short term, in the medium to long-term it can severely impact ROI."
ALIO Industries has developed a product configurator on its website to allow customers to put in headline application requirements, and be presented with viable motion control solutions which cover present and future application requirements. The product configurator allows ALIO customers the ability to specify the basic motion control requirements that are available in the standard ALIO portfolio, and to apply ALIO's support and experience to optimize the motion control recipe ensuring a perfect application specific fit. So if users know the direction of motion required; the basic product type (i.e. linear motion, z-lift vertical stages etc.); application specific needs (i.e. smooth continuous movement, step and settle etc.); open center or closed; travel range; maximum weight of payload; level of bi-directional repeatability; and the environment the application is to be used in (ambient, cleanroom, or vacuum); the product configurator will display ALIO's relevant options.
Lehner concludes, "Our product configurator (coupled with our unrivalled expertise in the area of nanometer-level precision motion control), means that we fully understand that achieving competitive advantage in exacting specialized industrial manufacturing scenarios requires the use of the right motion control tools. Take a look at the production of top-notch motors using electromagnetic components. In such a scenario, an efficient coil with a high fill factor minimizes not only the amount of material and volume required for a given linear motor, wound electromagnetic component, or sub-component, but simultaneously improves the heat conductivity of the winding.
Instant in-process, sub-micron corrections of the product during manufacture (such as during the winding process for an electromagnetic motor) help to optimize components and drive innovation. In ultra-high-end industries like this, it is vital to use the best quality motion control products available, and to have available highly-customizable products and processes. ALIO's precision linear X, linear Z and rotary stages enable specialized manufacturing as a fully integrated, value-adding feature that utilizes advanced systems at a competitive cost point allowing practical customization and an overall increase in product quality."motion.com.