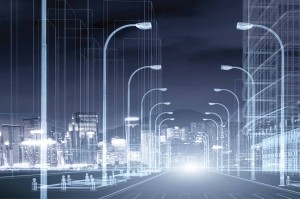 In the article Smart Fixture Controls in Intelligent Lighting, we discussed the evolution of centralized lighting controls, especially as it relates to controlling LED luminaires. Because LED characteristics are increasingly tunable they can be used for a wide range of custom lighting applications. Programming LEDs at the light fixture itself is relatively simple, but when you start to look at lighting controls in the context of building automation, integration becomes more complex, largely because there are multiple standards for integrating lighting into building automation systems (BAS).
Commercial building owners can save an average of 15% of their energy costs with a BAS. Additional real savings come from a full-function BAS that controls everything, including HVAC, security, IT, communications, and lighting. The BAS must deliver automated monitoring and control across systems, which requires standards that promote intersystem communications and controls, and that are easy to implement.
There are a variety of lighting and building control standards, including DALI (Digital Addressable Lighting Interface), KNX, BACnet (building automation and control network), and POE (Power over Ethernet). The question becomes which standards do you choose?
Basic building integration
BAS requires different levels of integration, each with its own unique set of communications standards and protocols.
Central to any BAS system is the communications backbone or bus, which provides the link between the human interface and building systems. The central bus tends to use denser, information-rich protocols, such as BACnet and IP protocols, to provide more control data.
Below the primary bus are secondary layers or links to support machine systems, which can include everything from robotic equipment to lighting fixtures. These secondary buses can be used to deliver manufacturer-specific, proprietary protocols, or protocols built on open standards to instruct specific devices. Data has to be translated between the secondary busses used for device instructions and the higher-level control interface.
Initially, building systems network infrastructures had to handle small amounts of control data at lower transfer rates. However, as building automation has become more sophisticated and new systems, such as security, have been added, data traffic has grown in volume and complexity. Security systems, for example, require real-time response and have to be more secure, and the bandwidth to transmit data such as images is much greater than that needed for sensors.
Lighting control late to the party
Lighting control is one of the last pieces to be added to BAS. When energy was cheap, it was easier and less expensive to control lighting at the room level. Integrating light controls into a BAS also was impractical because different types of lighting require different controls, e.g., incandescent lighting uses phase control dimming while fluorescents use 1-10V control dimming for ballasts.
Rising energy costs have created more demand for custom lighting and more programmable, low-energy lighting from LEDs. Given the high percentage of energy costs related to traditional lighting, it made good sense to consolidate lighting control with energy monitoring and management.
Facility managers started looking for ways to add lighting control to BAS to control light levels and monitor energy consumption. For example, while occupancy sensors still make sense at the subsystem level, centralized controls for light harvesting make more sense since the same controllers can be used for heat and window coverings to control the overall environment. Larger spaces, such as theaters, gymnasiums, and parking facilities, can connect to central dimming panels using high-level protocols such as BACnet, but there still needs to be communication between the subsystems and the primary bus.
IoT, DALI, and integrating control standards
The Internet of Things (IoT) promises to solve many BAS integration issues by providing a common IP protocol to communicate with all devices. The advantages of IoT can best be summarized as data from certain systems is used as input into other systems. For example, higher occupancy use should drive greater janitorial attention and lower heating costs. Sensors distributed throughout an area can drive systems such as HVAC and lighting, interconnected through the use of IP communications between all devices, and a shared data repository. Experts predict that IoT will become the foundation for building automation and smart buildings.
While IoT may be ideal for consolidating building communications, lighting control standards predate IoT. DALI was created by Philips lighting in 1984, adopted as an international standard in 2002, and has been widely used as a common protocol for lighting controls. Jointly developed by a variety of leading manufacturers, DALI provides a common data protocol and transport mechanism to connect products from different lighting vendors.
As an "open" protocol (i.e., anyone can develop compatible products), DALI has attracted many vendors seeking lighting control interoperability. DALI provides 254 levels of brightness from zero/off to 100 percent. In a DALI network, a controller monitor manages slave devices such as dimmers and ballasts, using a static address structure to link up to 128 devices into a single system.
Rather than creating a single standard for lighting management and control, we are going to continue to see a blended hierarchy, where specialty protocols such as DALI will control luminaires at the local level, and higher protocol standards such as IP and BACnet will provide central communications and instruction.
In addition to wired communications standards, there is increasing demand for wireless lighting controls. Standards such as Bluetooth, Zigbee, and Wi-Fi provide wireless lighting control options for hard-to-wire installations and to avoid rip-and-replace.
Unfortunately, many of these "standards" have vendor-specific variants. Some vendors offer a superset of instructions for DALI, for example, that aren´t part of the original standard. Zigbee does not specify when a luminaire turns off so two luminaires could receive the same signal and one powers to zero and the other dims: a big difference if you are concerned about power consumption and lighting usability.
With all these variations, it´s clear that the path to intelligent lighting as part of building automation requires user education and careful product selection. No matter what control and communications protocols dominate, it starts with placing intelligence in the LED luminaire. Using programmable LEDs makes it easier to create custom sensor groupings and lay the foundation for future integration, no matter what the lighting control or BAS standard. And selecting a BAS built on a platform that encourages multi-system and multi-vendor integration keeps your options open for the future. Meanwhile, building managers get the immediate ROI from light tuning and performance monitoring. It´s the best way to future-proof your central lighting control strategy.
Written by Russ Sharer, Vice President of Global Marketing and Business Development for Fulham Co., Inc.