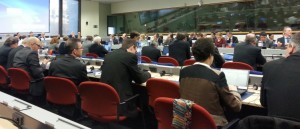 The European Commission (EC) and the European Defence Agency (EDA) have jointly organised a workshop addressing the so-called "Preparatory Action" on Common Security and Defence Policy (CSDP) related research and development (R&D), which took place on 30 March 2015 in Brussels.
EPIC (European Photonics Industry Consortium) and its member, French photonics cluster OPTITEC, have attended the workshop together with 150 Member States (MS) representatives and major players of the defence industry.
The EC, which currently finances exclusively civilian or dual-use R&D through its 80€ billion Horizon 2020 programme, considers the Preparatory Action (PA) as a major milestone in testing the added value of CSDP-related R&D within a permanent EU framework. If successful, the Preparatory Action could pave way the way to a fully-fledged EU defence R&D programme, the first one of its kind, as a part of the next Multi-annual Financial Framework (MFF 2021-2027).
Its supporters will need to demonstrate the EU-added value and complementarity with existing funding mechanisms (Member States & EDA's programmes as well as Horizon 2020). The key aspect in assessing the added value will certainly be the market uptake of the technology research, which will ensure the production of new strategic capabilities for armed forces in Europe and increase the competitiveness of the European defence technological and industrial base.
Photonics, recognized by the EC as a key enabling technology, could greatly benefit from the new funding due to its dual use nature. "Ensuring that Europe has access to all needed technologies for security and defence applications is not only relevant as a business opportunity for our industrial companies, but it is also a question of national security" emphasizes Carlos Lee, director general of EPIC.
If approved by the EU Council on Defence in June, the Preparatory Action could be launched in 2017 with an annual budget of 10-15 € million before becoming a part of the MFF 2021-2027. According to senior EC official its budget in the new MFF could be similar to the one of Horizon 2020 societal challenge 7 "Secure Societies" – 1€ billion.
However, certain number of questions concerning implementation modalities will need to be answered beforehand:
Most suitable implementing mechanism: EDA as the implementing agency vs. Joint Undertaking model;
Rules for participation: Industrial participation will most likely be limited to 28 EU MS + Norway and will be subject to a pre-qualification process by MS MoDs;
Evaluation of proposals: all classified process whereas the evaluators are selected by MoDs;
Funding scheme: 100% funding (currently preferred option) vs. co-financing by the MS or/and industry.
Last but not least, the Commission legal services will need to verify if the Preparatory Action and its follow-on activities are in conformity with the provisions of the Treaty of Lisbon, in order for this ambitious plan to become a reality.
EPIC is member of the European Defence Agency (EDA) CapTech 3 committee and member of the International Symposium on Optronics in Defence and Security (OPTRO).
OPTITEC, an EPIC member, is a French photonics cluster active in civilian and defence sector, with headquarters in Marseille (Provence-Alpes-Côte d'Azur region) and a permanent EU office in Brussels.
Written by Ziga Valic, EU Affairs Advisor at Photonics cluster OPTITEC and Carlos Lee, Director General at EPIC