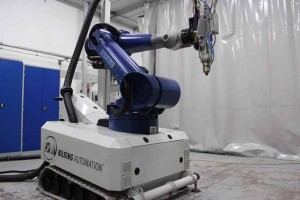 The Turkish subsidiary of Bilsing Automation is using innovations developed by the Fraunhofer Institute for Laser Technology ILT and its industrial partners. With extreme high-speed laser material deposition (EHLA) and the new special HighNo nozzle, Bilsing Automation aims to conquer new markets.
Fraunhofer ILT has been intensively researching and developing EHLA, since 2012, a process in which the laser melts the powder particles above the melt pool. This fast and reliable process applies 25 to 250 micrometer thin layers at a speed of up to 500 meters per minute in an economical manner that conserves resources; it has already proven to be a reliable alternative to hard chromium plating. Since then, the process has been opening up new areas of application and conquering industrial sectors. The latest highlight is the 3D EHLA system, in which the building platform is moved extremely quickly in parallel and kinematically by three linear drives with a stationary laser processing head.
Series production, however, requires a new nozzle that can be easily exchanged so that users can work with EHLA in a safe, precise and highly reliable manner. Here is a look at the nozzles commonly used up to now: In laser material deposition (LMD), different powder nozzles are used depending on the application. For areas that are difficult to access, the lateral powder nozzle, which directs the powder jet laterally into the laser beam, has proven its worth. In contrast, the coaxial powder nozzle, which generates a conically bundled powder-gas jet, works independently of direction. It is particularly suitable for integration into automated systems for coating and additive manufacturing.
The HighNo nozzle
Nonetheless, EHLA places special demands on the quality of powder feed nozzles: To melt particles in the laser beam, their trajectories and speeds must be precisely adjusted. Even small deviations of the powder flow lead to non-optimal results, such as insufficient layer thickness or layer defects in the applied layers. For this reason, Fraunhofer ILT, together with the company Harald Dicker - Special Optics for Laser Technology from Aachen, has developed a coaxial nozzle called HighNo (High Quality Powder Nozzle), which directs a ring or cone shaped powder-gas jet onto the workpiece at a very precisely defined distance. Depending on the application, this precision leads to powder efficiencies of up to 95%. The nozzle tips are classically manufactured from a proven copper alloy and then machined with ultra-high precision.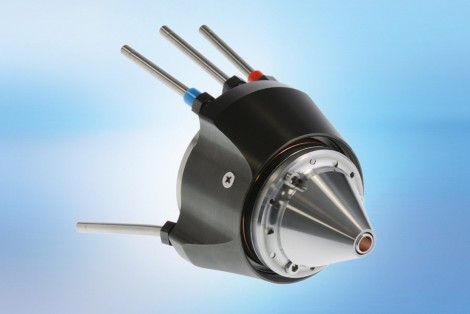 Base body of nozzle with nozzle tip module. © Fraunhofer ILT, Aachen / Germany.
The coaxial powder nozzle consists of a nozzle body and a monolithic powder tip module with two conical cones that guide the powder across a defined gap between the inner and outer cone. Thanks to the new manufacturing process, both cones have the same shape tolerances, so that the time-consuming adjustment after retooling, otherwise necessary with other nozzles, can be dispensed with. The surface of the nozzles has to meet high quality standards so that the particle flow can be adjusted in a targeted manner. Both the gap size and wear resistance of the nozzle can be individually adjusted according to customer requirements and application. Positive news from team leader Matthias Brucki from the Laser Material Deposition - Coatings & Functional Layers group at Fraunhofer ILT: "The HighNo nozzles can be retooled within one to two minutes without any loss of quality thanks to the monolithic design. The new nozzle has been in series production since the beginning of this year."
Advantages of the coaxial powder feed nozzle
Plug-and-play: The user can change the nozzle tips in less than two minutes and continue working immediately.
Process reliability: A user can reproducibly exchange nozzle tips in series production for the first time because nozzle tips can be qualified and quantified.
Low overspray and powder loss: EHLA and other metallic 3D printing processes require high powder density and high powder efficiency, which can only be achieved with high-quality HighNo nozzles and their elaborately coated, low-wear surfaces.
Flexible: A wide range of applications are feasible because of different gap dimensions and nozzle sizes, variable powder focus diameters and the possibility of using coarser powder.
High performance: The optional direct cooling with water also allows the use of powerful laser beam sources (up to 20 kW).
Reduced downtime: Elaborately produced nozzle tip modules, which are then pre-assembled with appropriate shape and position tolerances, make readjustment unnecessary.
Bilsing using laser material deposition to manufacture gripping and handling tools
A Turkish subsidiary of Bilsing Automation GmbH, Bilsing Automation Tic Ltd. Åti. from Bursa, Turkey, has already gained experience with EHLA and the new nozzle. It manufactures, not only flexible gripping and handling devices but also forming tools. The company has established long-standing contacts with Fraunhofer ILT through cooperating on the laser hardening of tools and the laser material deposition (LMD) of sophisticated titanium Ti-6Al-4V components for the aircraft industry. "In the meantime, we have advanced to become a subcontractor of Turkish Airlines, which also uses the process to repair titanium O-rings for landing gear," explains Managing Director Salih Ersungur. The company's interest in the innovations from Aachen grew and finally it introduced EHLA in the summer of 2019.
Going robotic
However, it did not convert a lathe, but equipped a mobile robot with a laser beam source, EHLA processing head and powder feed system. The result was a mobile EHLA station, which was used for testing purposes on a CNC lathe from another company. "I mounted a brake disk on the jaw chuck of the lathe," reports Ersungur. "We then basically positioned and programmed the robot to work with the lathe almost synchronously." Right at the start, the first test run was successful, and the CEO is very satisfied with EHLA and the smoother surfaces – which require less or no reworking – compared to those of conventional laser material deposition.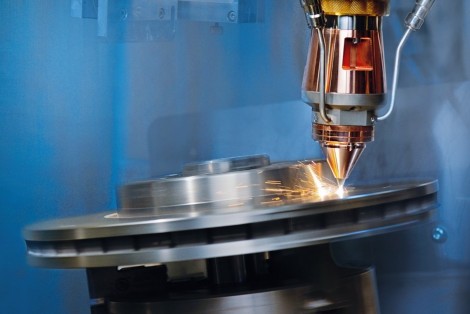 EHLA process coating a brake disc. © Fraunhofer ILT, Aachen / Germany.
The analysis of the coating tests convinced the managing director to now offer the EHLA process as a long-term service in Turkey and other countries he serves, for example as an alternative to the controversial hard chrome plating with chrome(VI). Ersungur: "I see very good opportunities in the shipbuilding, offshore and aviation sectors."
The company has also recently acquired the new HighNo nozzle. "The exchangeable nozzle tips of the new nozzle generation are fastened with three screws that can be loosened in order to then insert a different nozzle tip," says the managing director, describing the advantages of the new nozzle technology. "The HighNo nozzle makes the process more reliable and faster and reduces set-up times." Ersungur not only markets the combination of EHLA and HighNo as a new unique selling point exclusively in Turkey, but also intends to present it to customers in South Africa, Romania and Russia. Why? "Because we have been laser cutting successfully for six years, we now had to get on board with EHLA. It sounds like the future – since it already has momentum – and we strongly believe in it."
Written by Nikolaus Fecht on behalf of Fraunhofer ILT.