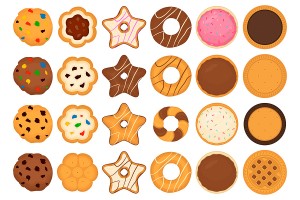 Food packaging has always been an essential application for machine vision inspection systems, but with the COVID-19 pandemic, new issues are of concern. Coronaviruses have been shown to remain viable on different surfaces for several days under specific light, humidity, and temperature conditions. Although current research indicates that COVID-19 cannot be transmitted by food or food packaging, brands are not taking any chances. Even the slightest complaint relating to quality and health risks can seriously jeopardize a company's existence. A negative image with consumers has a severe effect on sales and market share and can last for years.
Brands are redesigning current packaging to mitigate the risk of virus spread and to calm buyers who have become hypervigilant about contamination. As a result, the pandemic has caused the estimated $303.26 billion food packaging market (Source) to shift dramatically.
Pre-coronavirus, food packages were made of plastic (44.7 %), followed by paper and cardboard (30 %), metal (13 %), and glass (7 %) (Source), with a strong trend to move to more sustainable packaging. Reusable was in, and disposable was out. That is not the case today. Because of plastic's hygienic advantages, there is renewed interest in single-use plastic packaging that outweighs its impact on the environment. As an example, current CDC regulations encourage single-serving packages of condiments, such as salt and pepper or ketchup, at restaurants.
Food hygiene and safety isn't the only challenge. Our food supply chain also experienced overwhelming demand resulting in shortages due to shutdowns. Consumers are frustrated by empty shelves, and they are buying products in bulk, leading to even more shortages. Products are not always accounted for while they are in transit, highlighting the need for enhanced traceability. Increased supply chain visibility is vital as suppliers ramp up production on products and get them to the right locations when retailers need them. This challenge, combined with food safety, has put a heightened focus on labeling food packages for traceability.
Visual inspection systems for food safety and traceability
Packaging, labeling, and visual inspection systems play a critical role in food safety. The inspection system finds imperfections in packaging and labeling—performing crucial checks that prevent food contamination and ensures that labels are readable for traceability.
Food packages are typically sealed using heat-based systems, and these seals are critical for the quality and safety of the packaged product. Package leaks cause food contamination, a loss of nutrients and aroma, premature spoilage, loss of perceived quality and brand, and contamination of other products. Seal integrity is paramount.
The ability to read labels is essential for traceability. If labels have not adhered correctly to the package, or if it is unreadable for any reason, it could affect the product's traceability if a problem, such as a recall, arises.
Automated package inspection for speed and accuracy
One example of the importance of packaging is an international food company that wanted to ensure fast, high-quality inspections of their well-loved cookie brand's packaging. The company manufactures, packages, and ships cookie products, and looked to automate package inspection to reduce production time before they were boxed for shipment. The goal was to increase quality control and ensure that each product's packaging met the company's high standards.
The company operates between four and five production lines where packages undergo a final inspection before placing in cartons for shipment. In the past, these inspections and the boxing of packages for shipment were done manually. Workers visually checked to confirm that each end of the package was completely sealed, seals were folded correctly, and seals didn't have tears or holes as the packages were placed in cartons for shipping.
The manual inspections were time-consuming and highly unreliable; workers couldn't adequately inspect every package, decreasing quality and increasing the time between packaging and when a product was ready for purchase by consumers. Positive consumer perception of the brands high-quality was essential, so torn or unsealed packages were unacceptable.
Two different inspection systems were deployed to accommodate the unique packaging requirements of the square and round cookies. The first system was developed to automate rectangular packages with square ends using Teledyne DALSA BOA smart cameras with Sherlock vision system software.
The cameras were placed on each side of the production line, across five production lines to capture 1024 x 768 resolution color images of each package's ends. The cameras are triggered automatically as each package crosses the field of view, and the Sherlock software assesses each seal's images on both ends of the packages. It checks for the accuracy of folds and seals, as well as for tears or holes. Operators monitor inspection results, adjusting parameters, and tolerances as needed.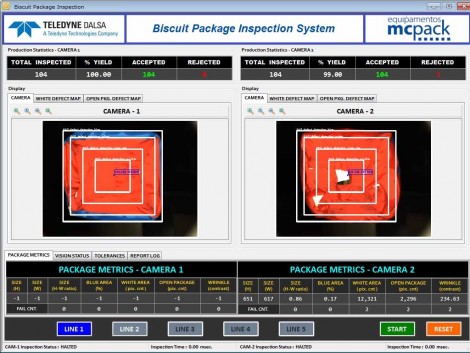 Figure 1: Across five production lines, Teledyne DALSA BOA cameras capture color images of the seals on both package ends as they cross the field of view, and then embedded Sherlock software assesses the images: consistent coloration indicates an accurate seal while white areas show potential defects including tears or holes. Defective packages are discarded.
Like many food packages, the cookie packages are sealed using a heat-based system. The inspection system assures that the seals are intact and checks for wrinkling in the package wrapper, which indicates that excessive heat was used to seal the package, threatening the seal's integrity. Once packages are verified to meet inspection parameters, they continue down the line for label inspection, boxing, and shipment. Any package that doesn't meet specifications is tagged as defective and discarded.
A second application was deployed to inspect the seals on tubular packages with round ends for a different cookie product. Teledyne DALSA Genie cameras were deployed across four production lines to capture 1024 x 768 resolution images of each package's ends.
In both applications, packages are now inspected at a rate of two packages per second, which is considerably faster and more accurate than manual inspection. The company has realized increased production rates, as well as labor and time savings. Products are ready for packaging and shipment much more quickly than ever before. A single inspection system operator now does the work of multiple employees who needed to check packages manually, thus reducing workforce costs. Finally, the company is confident that its quality control efforts are working and know that all its packages on store shelves meet their high standards.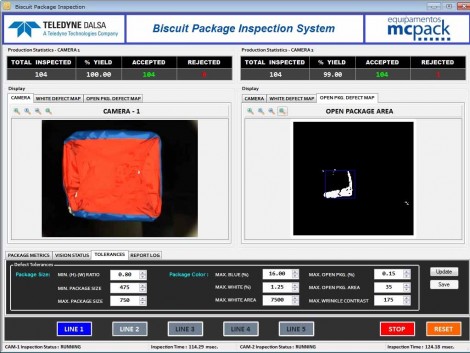 Figure 2: Sherlock's user interface allows operators to monitor inspection results including areas where one end of the package has opened, even as the production line operates at a rate of two packages per second.
Before packages are packed for shipment, labels are inspected for accurate placement as well as readability. In the case of cookies, there aren't any liquids that could distort the label. However, if you inspect heat sealed packaging for meats or prepared foods, leaks during production can distort the labels making them unreadable. If labels are not readable, traceability is compromised.
Pivoting to the new normal
As the world manages through the current public-health and economic crisis, packaging design will change. Brands must rethink packaging design beyond the basics, such as costs, convenience, and performance. The new packaging will need to take a consumer-safety-first approach designed for e-commerce and direct-to-consumer distribution models as more people move online to shop for food.
Visual inspection systems play an integral role in ensuring food is packaged correctly and that it is traceable. Inspection systems need to be easy-to-use and flexible enough to pivot to meet these new requirements without additional training or engineering as food safety, labeling, and traceability become more important than ever before.
Written by Steve Zhu, director of sales for Asia, Teledyne DALSA