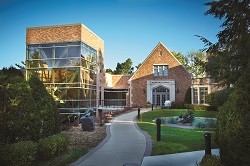 Since its founding 40 years ago by three sisters and families who dreamed of honouring their mother and her collections, the Leigh Yawkey Woodson Art Museum (known as the Woodson) in Wausau, Wisconsin (US), has been committed to enhancing lives through art and educational programs. As an art-in-nature-focused museum that is certified "Travel Green" by the Wisconsin Department of Tourism, the Woodson also strives to be a model of sustainability.
Deepening its commitment to environmental stewardship, the Woodson recently installed GE's energy-efficient Infusion light-emitting diode (LED) modules throughout a newly constructed gallery, saving 30 watts (W) of energy per fixture and bathing the artworks on view in white light.
Serving an estimated 56,000 visitors annually, the Woodson's flagship exhibition is Birds in Art, a juried exhibition that each fall comprises fresh interpretations in various styles by artists from around the world.
To accommodate a permanent collection of 43 paintings by Owen J. Gromme, the Woodson constructed a new gallery outfitted with GE's Infusion LED modules instead of the halogen lamps that have been used throughout the museum's galleries. Gromme is considered the "father of Birds in Art" and served as guest curator of the museum's inaugural exhibition in 1976.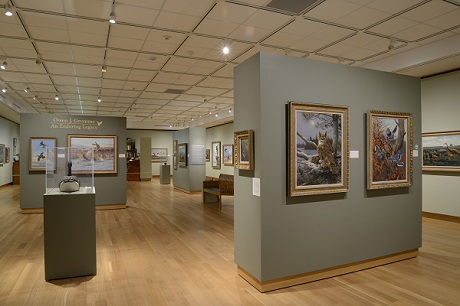 Birds in Art exhibition
According to Andrew McGivern, curator of exhibitions at the Woodson Art Museum: While they were sceptical at first of LED lighting solutions because of the initial cost, the colour and the clean white light in the new gallery are so pleasing that now they want to retrofit all of the galleries with LED. The new lights have a softer edge than the halogen lamps. When you go from a halogen lit gallery to the LED gallery, the new lighting gives it a completely different atmosphere.
Working with Specialty Lighting Sales of Wisconsin, Inc. (Milwaukee, Wisconsin), the museum tested a variety of bulbs and fixtures, eventually ordering GE's LED modules installed in Journée Lighting's Zinnia 1000i track lights because of superior aesthetics and functionality. GE's Infusion LED lighting maintains consistent colour quality from module to module and is available in a wide range of lumen packages to meet various lighting needs.
As a non-profit art museum committed to free admission, the Woodson is always looking for ways to improve its bottom line. Utilising GE's Infusion LED module instead of the traditional 50W halogen MR16 lamps saves the Woodson approximately 30W of energy per fixture, as well as lowering the cooling load of its heating, ventilation and air conditioning (HVAC) system, contributing to both direct and indirect energy savings.
In addition, GE's Infusion modules' twist-fit installation combined with a common base design reduces the Woodson's operational costs. Instead of replacing an entire LED light fixture at the end of its life, the module can simply be replaced to minimise environmental waste. As lighting needs change, it is quick and easy to adapt by removing the entire LED module and upgrading in seconds with interchangeable modules. The long-life LED museum lighting solution also eases the maintenance burden for the Woodson, where a scissor-lift truck often is required to reach 20-foot ceilings.