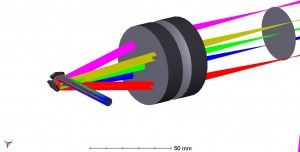 Gray Optics offers illumination optics, microscope objectives, and tube lens combinations, as well as the design and selection of mirrors and lenses to meet high signal-to-noise and high resolution. The Gray Optic team consists of highly skilled engineers and program managers with dedicated development experience for medical devices, life science instrumentation, and industrial optics.
Designing with off-the-shelf optics whenever possible keeps R&D budgets in check without sacrificing imaging performance.
An example can be seen in a solution for a multi-channel laser scanning microscope. A company had a need for a microscope design that could provide users with high-quality imaging of individual cells and meet set goals for cost targets. Gray Optics' engineers created a solution using available (OTS) components and customized lenses to meet all imaging specifications and requirements.
The design was transferred into SolidWorks for mechanical integration and to fully incorporate the complete system into the microscope platform. As a result, the Gray Optics team became a partner and has since supported additional lens design projects.
Gray Optics was established in 2017 in Portland, Maine, to bring engineering development and prototype advancements to the surgical, life sciences, and industrial optics marketplace. Product engineering, assembly, measurement, and testing teams handle each custom problem-solving target as an independent innovation partnership, finding the optimal solution for each challenge.