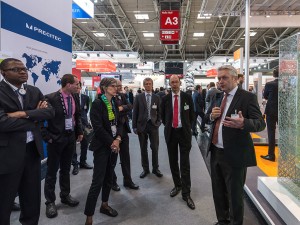 At the 2017 Laser World of Photonics in Munich, the number of exhibitors (1293) is up over 5% from 2015 figures. In Monday's keynote address, Dr. Peter Leibinger, Deputy CEO of Trumpf, kicked off the conference by saying that photonics, which is a multi-billion dollar global industry, has evolved to become the key enabling technology in so many important areas today—from smart cars to medicine to aircraft and more. This was evident across the show floor, as companies from around the world demonstrated wide-ranging products serving a broad spectrum of industries.
To keep the conference as dynamic as the products and applications presented, new events were introduced this year including the Makeathon, where students and young engineers spend 24 hours making something – either hardware or software, and then present it from 14:30 to 16:00 on Wednesday.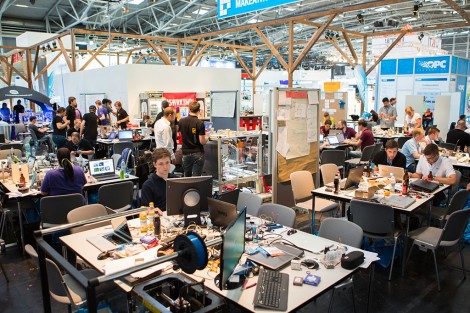 It will undoubtedly be inspiring to see what these sleepless young people produce in the Makeathon.
Start-up World and the Photonics Award
Start-Up World is an event that offers young companies from all over the world the opportunity to pitch their product in front of a distinguished group of industry professionals. The products are evaluated on innovation level, business potential, usability, technical feasibility and product availability. Prizes are worth a total of EUR 25,000 and include cash, exhibit space, visibility, marketing and business support.
The Photonics Award is given to the best product innovations from these start-up companies, and the judges noted that the decision was not easy. The products all serve very different markets and are at various stages of development—some are only concepts while others are in production.
The first place prize went to ContinUse Biometrics, a company based in Tel Aviv, Israel that developed a contactless biometric scanner. The scanner detects molecular vibrations and can measure over 20 bioparameters including blood pressure, heart rate, respiration and more.
Second prize went to ATR Elements, a German company that developed a silicon-crystal-based infrared spectroscopy tool for testing blood. Third prize went to Crystalline Mirror Solutions, a five-year-old company based in Vienna, that developed semiconductor supermirrors—a new concept in optical coatings. The low-noise coatings are used in optical clocks, gravitational waves and more.
Guided tours
Another new feature this year are guided tours that are designed to connect visitors with experts in established research fields. This year's theme is "Light Under Control," and those taking the tour get an overview of the topic as well as individual advice on their specific problems or challenges with light technologies. Experts from the Institute for Machine Tools and Industrial Management and the Bavarian Laser Center will offer an introductory presentation on the topic, provide greater detail on the tour, and then be available to answer questions afterwards. The tours take approximately 2 hours. Participants must sign up in advance, as only 10 people can go on each tour.
Laser World of Photonics 2019 is scheduled for 24 to 27 June 2019.
Written by Anne Fischer, Managing Editor, Novus Light Technologies Today