For those companies that design, manufacture and distribute image sensors, 2014 proved to be a year of significant consolidation. ON Semiconductor acquired Truesense Imaging in April and Aptina Imaging in August. Also in August, CMOSIS acquired AWAIBA, and then, in September, e2v acquired AnaFocus. In the case of these major industry players, consolidation meant that the big got even bigger as competitors jockeyed to outperform each other, promising new features and functions in the sensors they produced.
The ultimate goal: To strengthen their hold on existing markets and position for expansion with new customers in response to growing demand for devices that rely on image sensors. But what do these changes mean for those companies that integrate image sensors into their own products, and, more importantly, what kinds of advantages and benefits can industry consolidation bring to end customers?
When consolidation equals innovation for improved quality
The first and most obvious change that can result from industry consolidation is the potential for innovation as former competitors integrate intellectual property and share best practices. Even competitors who haven't merged or formed new alliances continue to innovate; in 2014, Sony—which still owns the lion's share of the image sensor market—introduced its new flagship Pregius CMOS sensors, which promise higher speed and higher resolution.
Consolidation in the image sensor industry promises to make the technology more accessible, and this is where it can deliver the greatest benefit for consumers...
New innovation and collaboration will lead to improved image sensor quality to benefit manufacturers and end customers. In fact, in the months since the industry transformation began, we've already seen CMOS image-sensor quality jump dramatically, particularly as Pregius raises the bar for other vendors.
For companies like Teledyne Dalsa, which incorporate image sensors from a host of vendors—including their own CMOS devices—into their cameras, higher image sensor quality equals better camera performance; the integration of more powerful image sensors reduces the amount of image pre-processing and image correction that needs to be completed within the camera itself. At the same time, higher quality sensors can also lead to improvements in camera design with advanced functionality—including higher frame rates with multi-ROI support, multi-exposure capabilities, improved signal-to-noise ratio, and high dynamic range capabilities—embedded into the image sensors and cameras themselves. Plus, thanks to improvements in design, these advanced capabilities can now be embedded into cameras that are less complicated and offer a much smaller footprint. In addition to the ability to boost resolution and inspection quality, innovation brought on in part by consolidation and change in the industry has also led to greater processing speed and throughput.
In machine vision applications used by customers across a range of industries, better performing cameras can mean significant improvements in terms of overall inspection quality.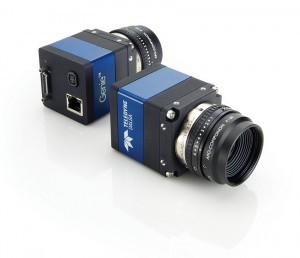 Teledyne Dalsa's Genie cameras (shown at right), for example, rely on high-quality, highly sensitive CCD and CMOS sensors and can offer resolutions from VGA to more than 12 megapixels, depending on the model, for more detailed inspections and greater yield in machine vision applications for flaw detection, measurement, and more. The difference between Genie cameras with VGA resolution and models with two megapixel resolution is an overall resolution that is six-times better.
Total cost and the alignment between function and resolution
Of course, what matters most to end customers is the value of the product they select—the functionality and performance received for the price paid. While consolidation in the industry may have reduced the total number of industry players, the competition between those remaining continues to be tough. This has already begun to impact the cost of image sensors and, as a result, the price of cameras or other products in which image sensors are incorporated.
For end consumers, this means that they can reap the benefits of higher quality cameras that offer enhanced functionality—including improved resolution, higher processing speeds, and greater throughput—for the same price as a camera they invested in in the past. For example, customers using machine vision technology may spend the same, yet identify more defects and get a better yield. Conversely, consumers can take advantage of competitive products that are now available at a much lower cost. These cameras likely offer the same performance and functionality as what these customers use today—although perhaps they're designed in a smaller footprint. In both cases, consolidation in the image sensor industry promises to make the technology more accessible, and this is where it can deliver the greatest benefit for consumers.
Written by Manny Romero, Product Manager at Teledyne Dalsa