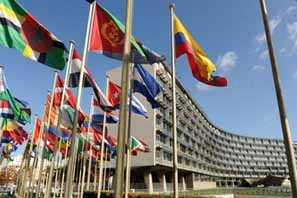 The opening ceremony for the International Year of Light 2015 (IYL 2015) is being held at the UNESCO headquarters in Paris January 19 and 20, 2015. Introducing all the key themes of the year, the opening ceremony aims to raise awareness about the importance of light-based technologies, and how light provides solutions to global challenges regarding energy, education, communications, and health.
More than a thousand participants — including international diplomats, decision-makers, Nobel laureates, CEOs, industry leaders, and engineers from around the globe — have convened in Paris for the two-day event. Highlights include: opening addresses by international political leaders; a series of keynote lectures, symposiums, and round-tables addressing topics ranging from innovative lighting solutions for society and emerging trends in the photonics industry to the history of science and science policy; talks on light in art and culture; presentations about how the roles of light-based technologies address global challenges; and cultural music performances involving light.
"The presence of so many distinguished members of the international scientific community at the IYL 2015 Opening Ceremony exemplifies the diversity and global nature of this unique, year-long educational initiative," said IEEE Photonics Society President Dalma Novak.
Keynote speakers from the light science community include Nobel laureates: Ahmed Zewail, Steven Chu, Zhores Alferov, William Phillips, and Serge Haroche, pioneering and inspiring scientists who will discuss a diverse range of topics, including: light and life, energy, telecommunications, and the fundamental physics of light-matter interactions.
Additionally, Linda Wambune of SunnyMoney and Solar Aid (Kenya), a guest of IYL 2015 sponsor, the IEEE Photonics Society, will talk about how universal access to renewable energy, through a unique mix of business innovation and enterprise, is the best way to alleviate poverty in Africa; share details about Solar Aid's mission to provide solar lighting in some of the most remote regions of the world; and explain the movement to eradicate kerosene lamps by 2020.
"The Photonics Society is well-known for its outstanding publications and technical conferences, but the International Year of Light provides us with the opportunity to showcase a different aspect of our mission — namely, our educational and humanitarian initiatives. Linda's presentation, Lighting up Africa, and our collaboration with Solar Aid will help us promote and expand these critical efforts," said IEEE Photonics Society Executive Director Christopher Jannuzzi.