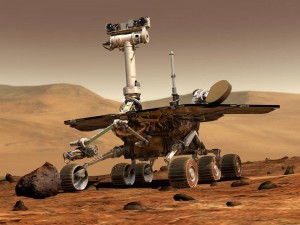 Following the safe landing of the Mars Rover on February 18, 2021, the world was eager to see the first images of the planet. The National Aeronautics and Space Administation (NASA) quickly released two images of Mars which also confirmed the rover's successful entry, descent and landing.
Jenoptik is particularly proud of and happy about seeing these first images of Mars as they were taken with the engineering cameras and lens assemblies that Jenoptik contributed to the Mars 2020 mission.
Jenoptik CEO Stefan Traeger: "We are a proud partner in delivering the first images of Mars from the Perseverance rover seen through Jenoptik HazCam camera lens assemblies! Congratulations to NASA, NASA Jet Propulsion Laboratory and all other teams that made this historical event a success!"
Jenoptik engineers had developed, assembled and tested three different types of extraordinary, cutting-edge lens assemblies for the Mars mission at the Jenoptik facility in Jupiter, Florida. They will contribute to the success of Perseverance by helping the rover navigate, avoid hazards and collect core rock and soil samples along its journey.
Jay Kumler, responsible for Jenoptik's optics business in North America: "We're proud that Jenoptik is helping pave the way for possible human exploration of Mars by engineering and manufacturing mission-critical technologies for space exploration. From helping Perseverance navigate, avoid hazards while it is in motion and enabling the collection of samples, Jenoptik is at the forefront of delivering critical photonic technologies and products for human advancement."