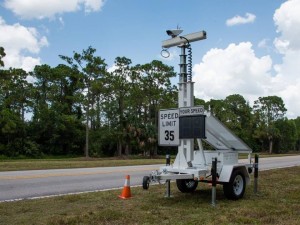 Jenoptik, a leading manufacturer of smart mobility solutions, recently deployed its mobile trailer solution with their highly advanced automatic number/license plate reader (ANPR/ALPR) technology to aid in the identification and recovery of equipment and material theft from work zones in Lea County, New Mexico.
Jenoptik's smart mobility solutions go beyond traditional enforcement equipment and can also be used for a broad range of applications and locations that include border control, construction zones, campus safety, parking facilities, wind farms, etc.
In Lea County, Jenoptik's Vector cameras were deployed in oil fields to help combat theft of equipment and to look for other stolen materials such as copper and wire. With Jenoptik's ALPR technology, enforcement agencies like Lea County can not only capture the license plate, but also effectively and efficiently identify the make, model and color of suspect vehicles, as well as view truck beds to look for stolen material. The program data was summarized and presented to major oil field companies in the Permian Basin who found value in the ALPR technology. The Vector camera operates day or night, 24/7 in any weather condition. Where the installation of stationary cameras is impossible or undesirable, Jenoptik's rapid deployment trailer solution can monitor suspect vehicles unattended with a runtime of up to 6+ months without recharge.
"We are very pleased to partner with Jenoptik and the results that their solution delivers. Their monitoring enforcement products has not only helped our agency combat crime and recover stolen property but has saved us time and resources allowing us to better serve our community," says Corporal Travis Hobbs of Lea County Sheriffs Office.
Finbarr O'Carroll, President of Jenoptik's Smart Mobility Solutions division in the Americas said, "Our proven public safety solutions enable agencies to better safeguard their roads and communities from all types of criminal activity."