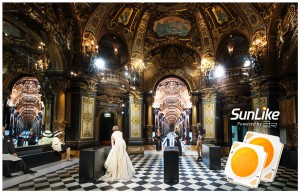 Seoul Semiconductor Co., Ltd., a specialist in LED products and technology, announced that its SunLike Series natural spectrum LEDs have been adopted by RAMO, a LED lighting manufacturer in France, for downlight fixtures used to illuminate wax figures in the Grevin Museum of Paris.
Since 1882, the Grevin Museum Paris, located on the Boulevard Montmartre, has been a leading tourist attraction, with exhibits of more than 200 wax figures of movie stars, celebrities, historic figures and politicians including Kylian Mbappe, Katy Perry, Michael Jackson, Marilyn Monroe, Angelina Jolie, and Albert Einstein.
Seoul Semiconductor's SunLike Series natural spectrum LEDs are the world's first LEDs to produce light that closely matches the spectrum of natural sunlight. SunLike Series natural spectrum LEDs were co-developed through the combination of Seoul Semiconductor's optical semiconductor technology and Toshiba Materials' TRI-R technology, which defines its original concept as "the light closest to the sun for human well-being." TRI-R technology enables the spectrum of natural sunlight to be reproduced by a white LED light source. TRI-R is a registered trademark of Toshiba Material Co., Ltd.
The SunLike COB LED packages adopted by RAMO for the Grevin Museum Paris's downlight achieved color temperatures of neutral white (3000K) and warm white (4000K), optimized to natural light spectra and color rendering of CRI-97 – close to CRI-100 of sunlight, and higher than the CRI- 80 of conventional LEDs. The downlight fixtures are designed to bring out the most natural color tones of objects which are particularly color-sensitive, making the wax figure exhibits of the Grevin Museum Paris appear more lifelike to visitors. They also deliver considerable benefits of significant vivid color, detail contrast, and homogeneous quality of light by reaching lower blue light peak similar to sunlight spectral curve possible to reduce scattered reflection and glare.