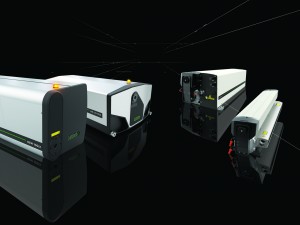 Laser innovator Luxinar will present its latest advancements in laser technology for cutting, drilling and marking at booth #1830 during ATX Minneapolis in the United States, scheduled for October 10th-11th.
New SR e series & SR x series – high-quality and high-speed processing
Catering specifically to the electronics sector's needs for high peak power and minimal heat-affected zones, the SR e 9.3µm series of CO2 laser sources excel in applications such as processing polarising film, bonding agent removal, and laser texturing, all requiring impeccable edge quality and minimal disturbance to surrounding areas. The SR 10e, featuring an output power of up to 115W on average and a peak output power of 330W, along with the SR 15e, with an average output power of up to 160W and a peak output power of 460W, deliver rapid processing capabilities without compromising quality.
Meanwhile, the SR x 9.3µm series amplifies the average power offered by the SR i series, making it the ideal choice for high-speed applications. The series lineup comprises the SR 10x, delivering an average output power of up to 105W and a peak output power of 235W, the SR 15x with up to 150W average output power and 335W peak output power, and the SR 25x, reaching up to 210W average output power and 465W peak output power.
Like the rest of the SR series, both the SR e and x series boast an IP66 rating, ensuring optimal protection against water and dust ingress. Their user-friendly control interface and compact mechanical design seamlessly integrate into various laser-based processing machines, spanning cutting, marking, perforating, drilling, and beyond.
SR AOM - enhanced edge quality in high-precision thin film cutting
Luxinar will also showcase the SR AOM series, which boast powers of up to 150W. This series is specifically tailored to address a wide range of high-precision applications that demand minimal heat-affected zones, such as multilayer thin film cutting for the display market and high-resolution/speed marking. The SR AOM, a CO2 laser integrated with an acousto-optic modulator, achieves optical rise and fall times of less than 1µs, effectively reducing unnecessary heat energy compared to typical pulse rise/fall times of approximately 60µs.
LXR series – ultrahigh precision processing
In tandem with its CO2 laser sources, Luxinar is unveiling its first range of ultrashort pulse laser sources, the LXR® series, with an output power of up to 120W. This patented technology revolutionises materials processing with its short pulse width (800 ± 100fs), allowing ultrahigh precision micro- and nanofabrication of various components. The LXR® provides high throughput and repeatability, and its fast burst mode increases material removal while maintaining high-quality machining. External controls available via MCU, PC, and web server app allow for local or remote diagnostics and monitoring.
Luxinar's ultrashort pulse laser developments in the IR, UV and green spectrums are opening opportunities in new applications for the company's laser sources, including glass separation, surface functionalisation, micro welding and micro-via drilling.
Yannick Galais, Sales Director at Luxinar, states, "Participating in another ATX exhibition is a source of excitement for us. It provides an excellent platform to showcase our array of CO2 lasers and ultrashort pulse lasers tailored for the advanced manufacturing industry and spotlight the advantages of partnering with a company that boasts a quarter-century of laser technology expertise."