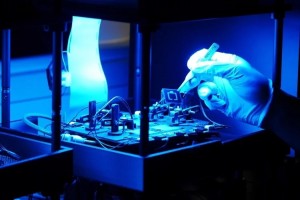 Q CELLS, a renowned overall energy services provider in solar, power storage, downstream project business and energy retail, has achieved a new world-record tandem cell performance of 28.7% in partnership with Helmholtz-Zentrum Berlin (HZB) scientists, using a Q.ANTUM-based silicon bottom cell in conjunction with a perovskite-based top cell.
Over the past three years, Q CELLS' R&D team in Thalheim, Germany, has collaborated with Helmholtz-Zentrum Berlin to develop a tandem solar cell comprised of a silicon-based Q.ANTUM bottom cell and a perovskite-based top cell. This latest record performance result of 28.7% is an advancement with almost 1% point contrasted with the 2020 record value of 27.8% (which was solely confirmed by the Fraunhofer ISE Callab).
This increase in tandem performance has been made possible by advancements in both the perovskite and silicon sub cells. The German Federal Ministry for Economic Affairs and Climate Action (BMWK) along with the state of Saxony-Anhalt contributed to the research and progression.
While the solar research group has seen even greater perovskite-tandem cell efficiency levels, these records were set using a research facility that is not easily transferable to mass production. The accomplishment of Q CELLS and Helmholtz-Zentrum Berlin is noteworthy primarily since the 28.7% efficiency was achieved using an industry-viable and cost-efficient bottom cell structure based on Q.ANTUM technology.
Q CELLS officially confirmed last year that it will increase its R&D investment in Germany to €125 million within the next three years. A significant portion of that sum is set aside for Q CELLS' R&D department's ongoing assistance with the commercial production of perovskite-silicon tandem technology.
Dr. Steve Albrecht, group leader at HZB and Junior Professor at Technische Universität Berlin added, "It is highly exciting that we enable this high tandem efficiency utilizing industry relevant bottom cells with a high market share, so there might be fast impact of the tandem technology to revolutionize the PV market."