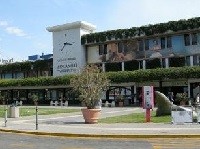 Dr. Antonella Bogoni, a researcher at CNIT in Parma, Italy, received a 'Proof of concept' grant from the European Research Council (ERC) and announced a new series of tests on photonic radar. The team has found that by exploiting light to generate and detect radio-frequency (RF) signals, they can develop digital radar with a much higher performance than existing radar.
The research team will test the photonic radar by monitoring the air traffic of the neighbouring Pisa International Airport (see photo). The detected data will be re-elaborated by the photonic radar developed by the Pisa research group and compared with the data simultaneously communicated during flight in order to verify the level of precision of the device.
A laser producing ultra-short light pulses (i.e., at 1/10 billionth of a second) will be used for the test. The laser will allow the generation of high-quality radar signals at higher and more flexible frequencies, even under bad weather conditions. The radar can also carry out different operations simultaneously as it can monitor the environment by controlling the air and land traffic while enabling communications among airport workers. Bogoni believes that accidents due to congested air traffic will significantly decrease in the near future.
The team will use its ERC grant to design a prototype and explore business opportunities.