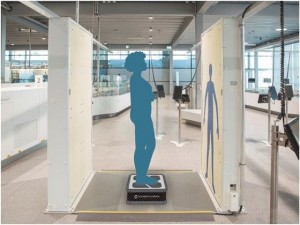 Plymouth Rock Technologies Inc., a specialist in the development of cutting edge threat detection technologies, launched its new SS1 Shoe-Scanner.
The PRT Shoe Scanner is a floor-mounted 3D imaging system that uses harmless millimeter wave imaging techniques combined with artificial intelligence to inspect footwear without the need for removal by the wearer.
The advanced technologies employed in PRT's Shoe Scanner will scan and detect weaponry, explosive substances, compounds, or electronics concealed in shoes and other footwear at airports and other public and private venues. After extensive testing, 3D images produced from the scanner are compelling, and believed to be far in advance of any other existing technology designed for this purpose.
With various commercial applications, the Shoe Scanner can also detect and highlight irregular modifications that have been made to the structure of the shoe. The effort and motive for someone to modify a shoe to secretly accommodate materials or items are usually in the pursuit of an illegal or malevolent outcome.
In June 2019, the United States Department of Homeland Security (DHS) Science and Technology Directorate (S&T) prioritized the mission of bringing shoe scanner technology to security checkpoints. In order to assist and meet this call, PRT's technical team have been working on several proprietary aspects of the Shoe Scanner.
New patent filed
Plymouth Rock has also filed a US Patent application for its "Ellipsoidal" scanning technique. Following months of research and preparation, Plymouth Rock Technologies, has applied for patent protection of its "Ellipsoidal" scanning technique that will be used in the next generation shoe scanning system, SS1.