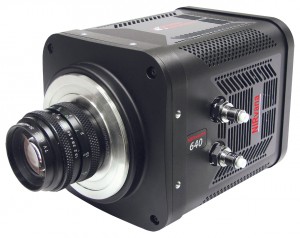 Teledyne Princeton, a Teledyne Technologies company and world-renowned manufacturer of scientific imaging and spectroscopy equipment, is pleased to recognize the recently published work of a multidisciplinary research team in China and the USA. The collaboration has resulted in the design, construction, and characterization of an endoscopic system to perform targeted second near-infrared window (NIR-II) fluorescence imaging of colorectal cancer.†
The team used the new NIR-II endoscopy imaging system to evaluate a synthesized fluorescent molecular probe, indocyanine green (ICG) conjugated bevacizumab (Bev-ICG), which targets vascular endothelial growth factor (VEGF). The study, supported in part by the Natural Science Foundation of China, the Clinical Capability Construction Project for Liaoning Provincial Hospitals, and a China postdoctoral science foundation grant, was spearheaded by researchers at the Institute of Molecular Medicine Joint Laboratory for Molecular Medicine at Northeastern University in Shenyang, Liaoning.
The study's authors note that while endoscopy is a clinical gold standard for examining the interior of a hollow organ or body cavity, they are the first to report the use of NIR-II fluorescence endoscopy for the targeted detection of colorectal cancer. Their innovative endoscopic imaging system, which enables the simultaneous acquisition and display of white light and NIR-II fluorescence, delivers subcellular resolution of 20 μm for sharp images in the NIR-II region (i.e., 900 nm to 1700 nm).
Michael Melle, imaging product manager at Teledyne Princeton Instruments, says, "We are gratified to see the short-wavelength infrared (SWIR) sensitivity and quantitative capabilities of the NIRvana camera being leveraged for real-time, non-invasive imaging of colorectal tumor biomarkers." Melle went on to say, "NIRvana technology offers a versatile, high-performance solution for myriad in vitro, ex vivo, and in vivo NIR-II fluorescence imaging applications."
Because the researchers' new NIR-II endoscopy system provides a generalizable design compatible with most current clinical endoscopies that are equipped with a standard coupling, they anticipate similar hardware upgrades will greatly promote the application of NIR-II fluorescence imaging in clinical settings.
† Suo, Yongkuan & Wu, Fengxia & Xu, Pengfei & Shi, Hui & Wang, Tingzhong & Liu, Hongguang & Cheng, Zhen. (2019). NIRâ€II Fluorescence Endoscopy for Targeted Imaging of Colorectal Cancer. Advanced Healthcare Materials. 10.1002/adhm.201900974.