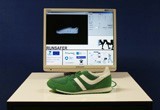 Jogging is a popular way to get exercise and lose weight, but the fact of it is that it is jarring to your joints and can tear ligaments. To prevent these kinds of injuries and symptoms of muscle overload during training, researchers from the Fraunhofer Institute for Photonic Microsystems IPMS in collaboration with five partners are developing a specialized running shoe in the EU project Runsafer.
It works by having sensors and microelectronics integrated into the sole of the shoe, which measure the biomechanical data of the athlete and evaluate the runner's form with the help of measurements in real time.
Jogging is a desirable sport with undesirable side effects – and the number of running injuries and joint com-plaints is increasing. Runners run risks of twisting or injuring an ankle joint, especially on uneven ground or when fatigued. Pulled ligaments or even a broken ankle can result. If muscles are not warmed up or a person overestimates their condition, training is often interrupted due to knee pain and pulled or torn muscles.

With this measurement system embedded in a running shoe, the athlete can get feedback through a smartphone. Besides the microcontroller, the RF module, and batteries, the system comprises accelerometers and GPS sensors that capture the biomechanical signals from the body as well as the runner's speed and transmit it via Bluetooth to the runner's Smartphone.
A Smartphone app evaluates the data in a split second with the help of specialized algorithms and gives the athlete feedback on training performance. If necessary, the app makes suggestions about running form or the training routine. The app can tell the runner to slow down, adjust his gate, running surface or to just stop.

A prototype of the running shoe is already done, as is the smartphone app. The researchers are presently working on a still smaller version of the microelectronics and sensors, which is a big challenge, particularly because the system must be waterproof, light and durable.
The high-tech shoe should be available for sale by the beginning of 2015. Runsafer-Project partner New Millenium Sports SL, the Spanish manufacturer of athletic shoes and sportswear and owner of the Kelme brand, will be bringing it onto the market.
Photo: Joggers will be able to prevent future injuries like pulled ligaments or torn muscles thanks to the specialized running shoe. © Fraunhofer IPMS