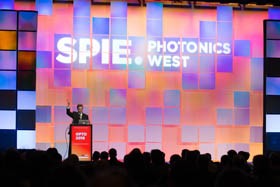 At Photonics West over 20,000 people will gather this week In San Francisco, California (US) to learn about the latest research, trends, new products and innovation in light technologies. Throughout the week, Novus Light will keep you up to date on the latest from the conference trade show floor, beginning with this preview of what not to miss.
2017 Start-Up Challenge
The Start-Up Challenge offers an opportunity for entrepreneurs to pitch their light-based technology innovations to a team of business development experts and venture capitalists. The Semi-Finals, will be held Tuesday 31 January from 2 to 4 p.m. at the Park Central Hotel, Franciscan I & II, Stanford Room. Here the semi-finalists, divided into three tracks, will compete for the six spots in the final.
The three tracks are BioPhotonics, Point of Care; Imaging, Displays, Lasers, Semiconductors; and Sensors, Wearables, IoT.
On Wednesday 1 February from 3:30 to 6 p.m. in room 103 in the Moscone Center (South), judges will select the top six pitches from the semi-final round. The top six presenters compete for $10,000 from Jenoptik and $5,000 in products from Edmund Optics.
SPIE Job Fair
Top employers are ready to interview and hire candidates at Photonics West 2017 at the SPIE Job Fair, held in the South Exhibit Hall on Tuesday 31 January and Wednesday 1 February from 10 a.m. to 5 p.m.
3D Printing: New challenges and opportunities
A panel discussion on 3D printing will take place on Wednesday 1 February from 8 to 10 a.m. in the South Exhibit Hall, Room 103. Panelists include Denis Cormier, AMPrint Center Director, Earl W. Brinkman Professor of Industrial and Systems Engineering; Pat Grace, TRUMPF, North American Sales Manager, Bo Gu, Consultant; Andy Martin, GE Aviation, Additive Manufacturing; Rich Stump, Fathom, co-founder and principal.
CVD Diamond: Synthesis, processing and scalability
Alexander Muhr, senior applications engineer at Element Six Technologies, will share with attendees key progress made in the development of synthetic diamond for a variety of applications, including high power laser optics, cooling in high power disk laser and diamond Raman lasers. The session takes place on Tuesday 31 January, 3:50-4:10 p.m. in Room 132 (North Exhibit Level)
2017 Prism Awards
On Wednesday 1 February at the Prism Awards Ceremony and Banquet, the winners of the 9th annual Prism Awards will be announced. Check back with Novus Light for a report on the winners of this prestigious event. Presenters of the award include Edgar Auslander, Oculus Research; David Bohn, Microsoft Hololens, Sarah Boisvert, Fab-Lab; Louay Eldada, Quanergy; Vincent Mattera, II-VI; Michelle Mihevc, Fathom; John Ryan, WireTheWorld; and Katharine Schmidtke, Facebook.
Keynote: Navigating Science, Technology and the Budget in President Trump's Washington
This keynote address takes place on Thursday 2 February from 9:15 a.m. to 9:45 a.m. in the South Exhibit Level, Room 103. Keynote speakers include Josh Holly and Beth Inadomi of The Podesta Group, a bipartisan team of global advocacy and strategic communications specialists based in Washington, DC.