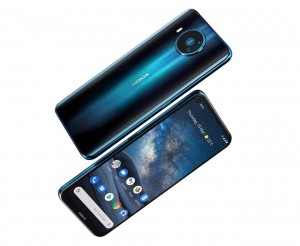 Pixelworks, Inc., a provider of power-efficient visual processing solutions, announced the Nokia 8.3 5G, featuring a PureDisplay viewing experience, is powered by the Pixelworks visual processor. As the first 5G smartphone from HMD Global, the Nokia 8.3 5G brings cinematic big screen technology to consumers' hands with an exceptional mobile entertainment experience in a truly affordable premium smartphone. The phone's true-to-life display with clarity in all mobile lighting environments enables consumers to immerse themselves in the readily accessible video and interactive games made more widely available through ultra-high speed 5G networks.
Running on a Qualcomm Snapdragon 765G modular platform, the Nokia 8.3 5G brings the largest PureDisplay screen on a Nokia smartphone yet. The 6.81" edge-to-edge screen comes with PureDisplay technology powered by the Pixelworks visual processor, which incorporates the following advanced features:
Always-on HDR – Accurately displays HDR videos in immersive detail with up to one billion shades of color and upscales all other content to HDR quality in real-time for an always-on cinematic experience.
Enhanced Picture Quality – With superior color accuracy, sharpness and local contrast, content is displayed in vivid, accurate color, while exposing hidden details in dark areas and bright highlight without over-saturating other portions of the image.
Auto-adaptive Display – Dynamically adjusts brightness to compensate for ambient light, providing ease of viewing in all viewing conditions – from dimly lit rooms to the sunny outdoors – while preserving picture quality, for superior clarity on-the-go.
Absolute Color Accuracy – With high-efficiency display calibration from Pixelworks, consumers can re-live moments captured with photos and videos in vivid, real-world color, correctly match colors for worry-free online shipping and enjoy realistic gaming experiences with life-life colors.
This Pixelworks processor enables real-to-life color reproduction and immersive Always-HDR quality for all your streaming media, videos or games, even when the content is only available in standard dynamic range (SDR). This is done by dynamically upscaling the color depth and detail by a factor of 64, transforming all your entertainment into unforgettable visual experiences.