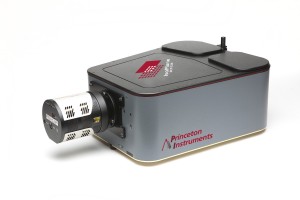 Princeton Instruments is pleased to announce that the award-winning IsoPlane spectrograph has been used in recent, groundbreaking research in single-molecule tip-enhanced Raman spectroscopy by the Van Duyne group at Northwestern University.
The researchers combined the techniques of single molecule tip-enhanced Raman spectroscopy (SMTERS) and scanning tunneling microscopy (STM) to obtain unprecedented sensitivity and spatial resolution in Raman spectra of single rhodamine 6G molecules. The results constitute a significant advance in the understanding of excited-state dynamics in adsorbate-substrate interactions. The experimental setup included the PIXIS 400B CCD camera and IsoPlane SCT-320 spectrograph from Princeton Instruments.
The IsoPlane (patent pending) spectrograph features a revolutionary new optical design that eliminates field astigmatism and greatly reduces other aberrations inherent in the design of the Czerny-Turner spectrograph. It produces images with much higher spatial resolution across the focal plane than any mirror-based spectrograph on the market. The IsoPlane reduces instrumental line width limitations, significantly increasing the effective signal-to-noise ratio (SNR) of single-molecule Raman spectra. Thanks to its superior imaging ability, the IsoPlane also eliminates crosstalk in multi-channel spectroscopy, providing an 8X increase over comparable instruments in the number of fiber spectra that can be spatially resolved over the height of a CCD array. Together with Princeton Instruments' industry-leading CCD, EMCCD, ICCD, and InGaAs cameras, as well as highly reflective mirror coatings from Acton Optics, the IsoPlane offers the best available performance in optical spectroscopy.
The work is published in "The Origin of Relative Intensity Fluctuations in Single-Molecule Tip-Enhanced Raman Spectroscopy," which was recently accepted for publication by The Journal of the American Chemical Society.